Straight set of analog wind (アナログ風の直線セット)
アナログ風の直線セット
Content ID:1735627
Translated by

Hand-drawn Brush & Tool

A set of pens and frame border that draw a slightly fluctuating hand-drawn wind line.
I made it aiming at the line which I drew with a ruler by analog work. Hand-drawn brush & tool

ほんの少し揺らぎのある手描き風の直線を描画する、ペンとコマ枠のセットです。
アナログ作業で定規を使って描いたような線を目指して作りました。

■ Brush tip images are created in 600dpi/gray.
It is possible to change the color in the line with only a little Zara.
■ Frame border can be used in the same sense as the default rectangle frame tool.
The shape of the frame can be freely created.
Because the ■ pen is a ribbon brush created in the "draw a straight line" application, it is unsuitable for drawing with a lot of people and curves.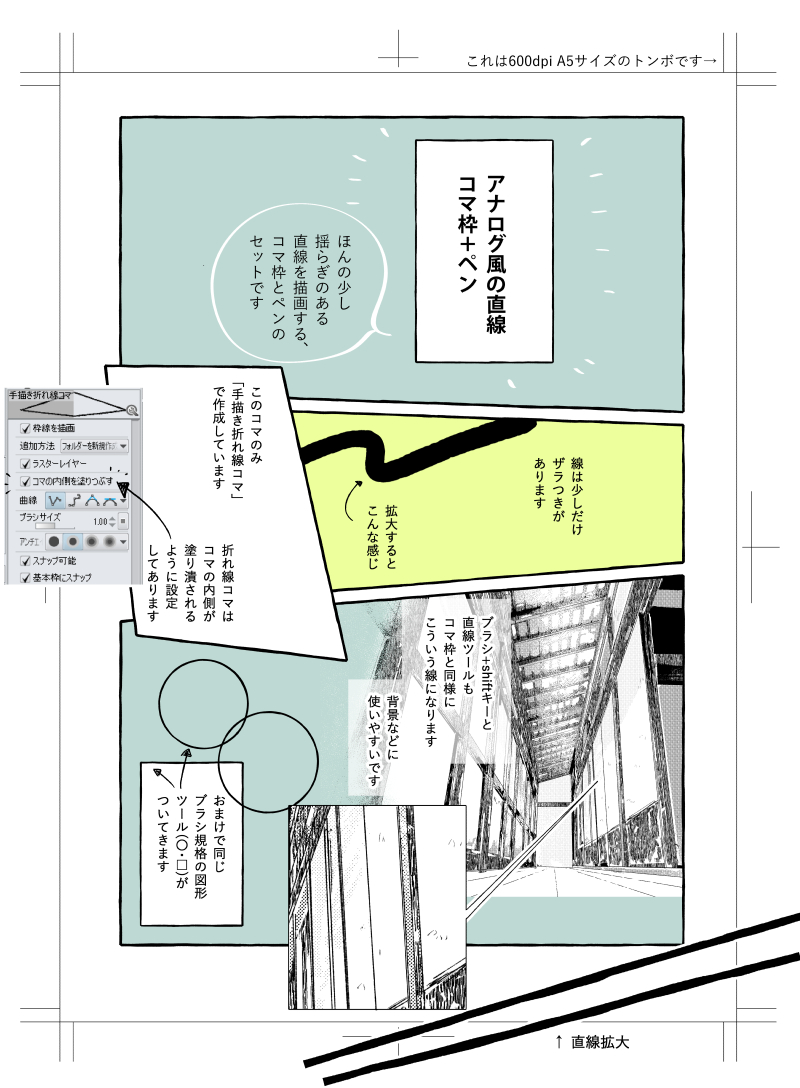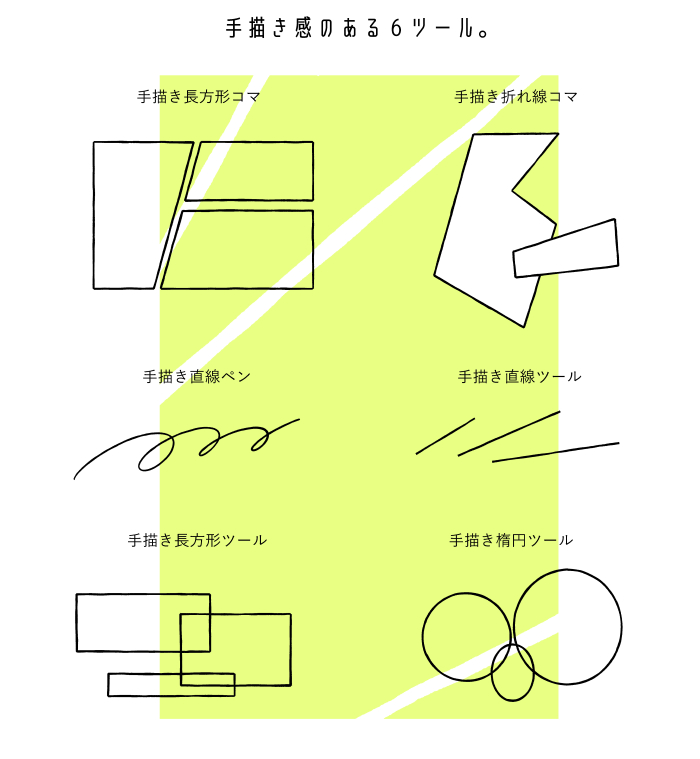 ■ Brush tip images are five species. The drawing order is random.
Because the line is connected to beauty neatly in any order,
If you have any unnecessary parts, please remove them as appropriate.

Application of this material
■ Brush setting [register to preset], you can use the same line in other shape tools.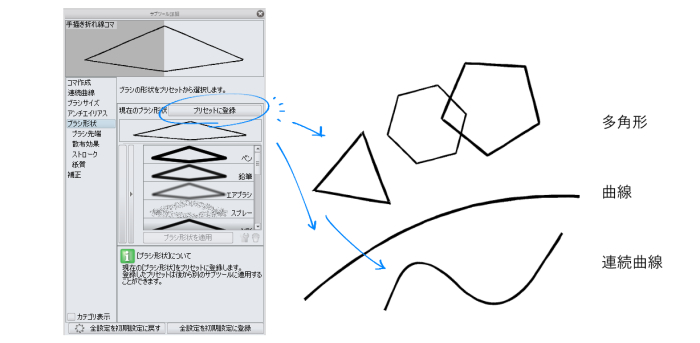 ■ Frame Border [roundness of the corner], to feel a little cute.
The specification of the roundness is recommended because "length specification" becomes a beautiful rounded corner.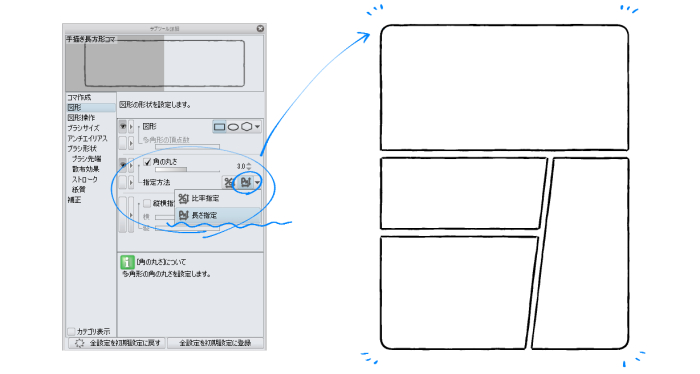 - - - - - - - - - -
We are also publishing a speech tool that can be used with this material.
Please use it together if it is necessary.
"Analog wind Balloon Tool"
https://assets.clip-studio.com/ja-jp/detail?id=1735459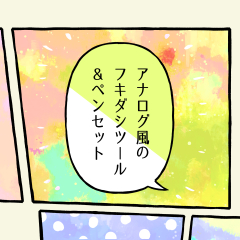 ■ ブラシ先端画像は600dpi/グレースケールで作成しています。
  少しだけザラつきのある線で、色変更も可能です。
■ コマ枠はデフォルトの長方形コマツールと同じ感覚で使用できます。
  コマの形は自由に作成可能です。
■ ペンは「直線を描く」用途で作成しているリボンブラシなので、人物など曲線の多い作画には不向きです。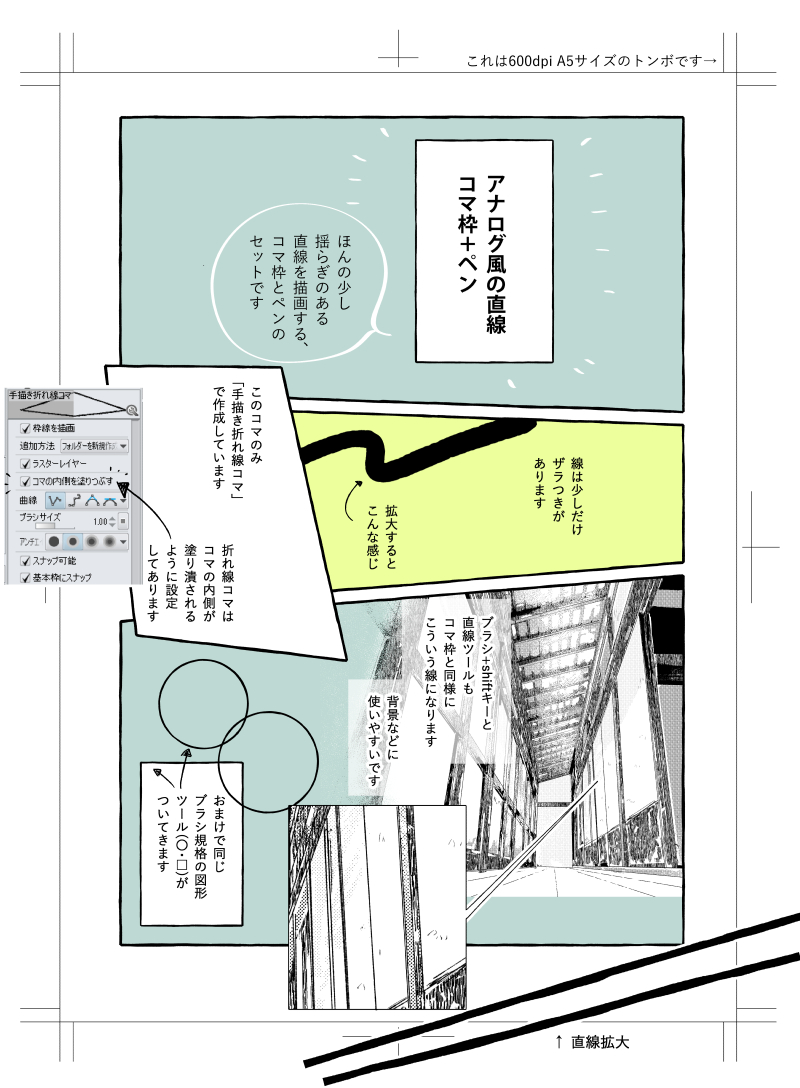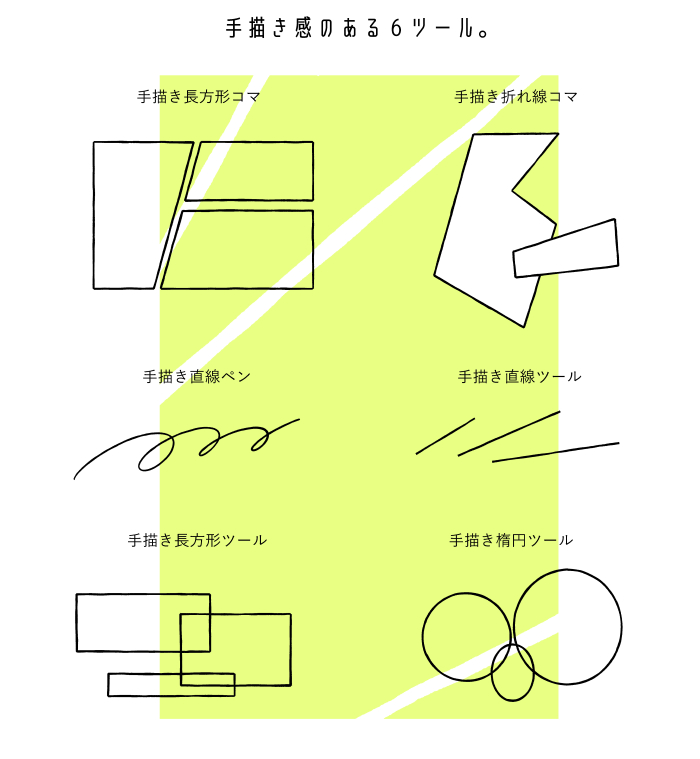 ■ ブラシ先端画像は5種。描画順序はランダムです。
  どの順番でも線がキレイに繋がるようになっているので、
 不要なパーツがあったら適宜削除してご利用ください。

【 この素材の応用 】
■ ブラシ設定は【プリセットに登録】すると、他の図形ツールでも同じ線が使用できます。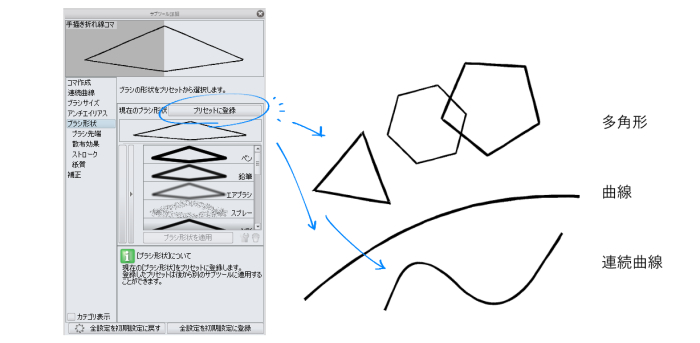 ■ コマ枠は【角の丸さ】を付けると、ちょっと可愛い感じに。
  丸みの指定は「長さ指定」がキレイな角丸になるのでオススメです。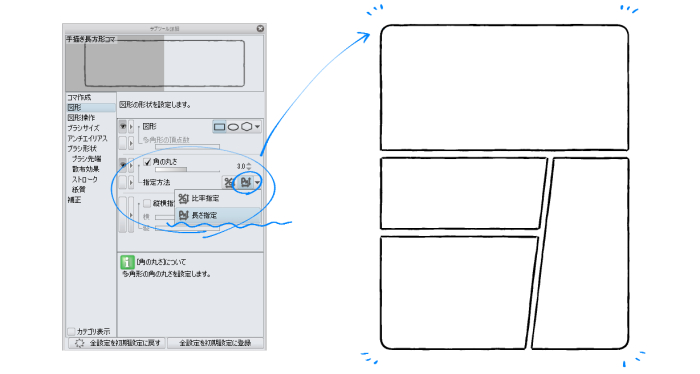 - - - - - - - - - -
この素材と一緒に使えるフキダシツールも公開中です。
よろしければ合わせてご利用ください。
「アナログ風のフキダシツール」
https://assets.clip-studio.com/ja-jp/detail?id=1735459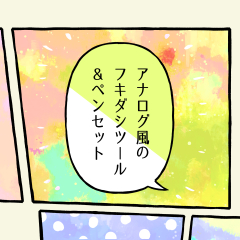 Hand-Painted frame border & pen 手描きコマ枠&ペン
Hand Drawing Tools 手描き図形ツール