5 Color Map Set (5色マップセット)
5色マップセット
Content ID:1680943
Translated by

It is a set of five gray color, a gradient map and other ancillary things to make a picture without anti-aliasing to five color colors. グレー5色、アンチエイリアス無しの絵を5色カラーにするグラデーションマップと他補助的な物いろいろのセットです。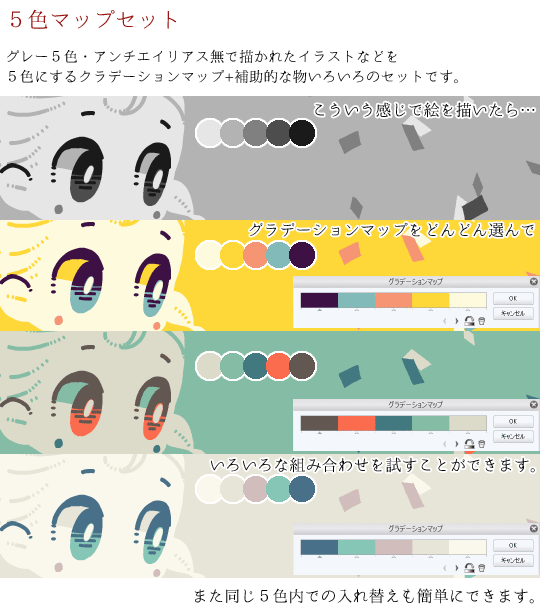 This is a set.
It is necessary to draw the base picture with anti-aliasing without a mechanism.
What is anti-aliasing? If you want to search maybe will tell.
I write at length, but maybe it is not difficult if I try.
How to draw ■ Picture itself
> > I only have a palette of colors.
If you want to fill the color of the way you like to paint anyway if you want to see the palette instead of color book picture set.
Because the color pattern is poor, please feel free to customize.
> > Do you like it if you have a grey palette faction
Gradient map set + gray palette.
Anyway, the trouble sect
Gradient map set + layer set.
If you draw to a fixed layer, it is a set of gray layer with no anti-aliasing.
Then there is also a layer gradient map from the beginning.
I think that you understand roughly when I draw one line for the time being in each layer.
If you pulled from the material, or change the layer order as desired
Please use it to copy.
※ Because the brush that set the sub color also becomes a color,
If you want to use it, you can set layer color sub color yourself.
Please make use of new layer.
Using a gray palette together
It is easy to change color just to pick up the color layer color from the palette.
About ■ 5 color map (gradient map)
gradient map layer settings in import material set
Load the downloaded gradient map set.
The classification is suitable, although the set was divided by category.
Gradient map can do anything customize.
Make your favorite gradient map and save it yourself.
It is good to be able to use it at any time.
How do I swap colors in the gradient map?
You may want to move the node (the triangle below each color) to the left or right.
The position, if you look at the preview and even the colors have been swapped
I think it is appropriate,
It is 10, 30, 50, 70, and 90 from the left tentatively.
If you want to do it properly, you can select a node and enter a numerical value.
Even if you stack nodes in the same position,
You can switch by pressing the left and right markers above the number.
And if the picture is five-color gray, it's going to be five colors for normal gradient map.
Please try various.
■ Drawbacks
gradient map collapsed in a non-consolidated state
In fact there is no such color as noise.
If If you want to check the magnification 100%.
If you want to see the actual reduction results in the middle
Merge a copy of the display layer
It is good to make a layer of the state that joined the picture. It is good if throwing it away when finishing seeing.
■ Little Thing
If this gray is difficult to paint,
It is good if you create a five-color map for drawing a picture with gradient map.
I think whether it is good in the color in the set if I draw accessible.
Draw three to four times the size of the picture to be up on the web,
Integrated to finish → shrink/how to correct/smooth
I think that it becomes a smooth picture anti-aliasing.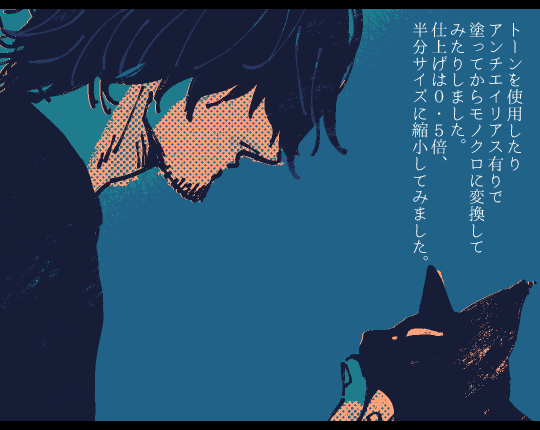 This was drawn twice. The character is a lift after shrinking.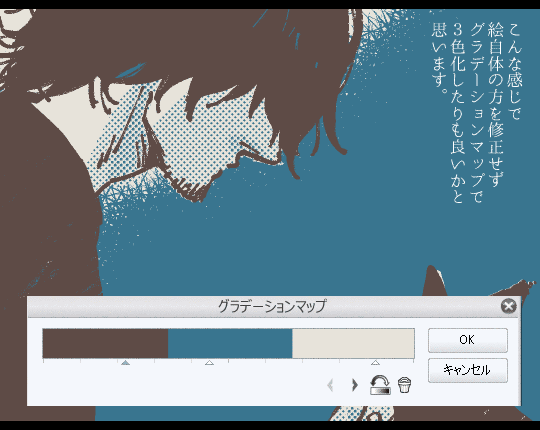 You can remove the node/color by Hippari or raising the node of the color you want to erase, or clicking the Trash icon to select the node.
■ Extra Brush Set
This is not a color monochrome layer represented,
Use in gray or color layers.
It is a brush to become gradation with a main color and sub color.
I think that it becomes five colors to a good feeling if I try five color map with black & white.
(It might come out a subtle different colors because it is a map that is not exactly five colors)
For example main color if the gray sub color The second color of the fourth color color gray
5 Color Map when 4. 3 It becomes only the second color.
When you resize the shape itself, scatter brushes adjust the particle size.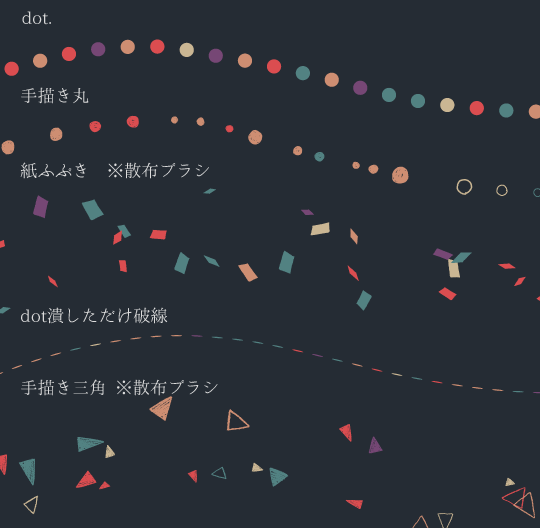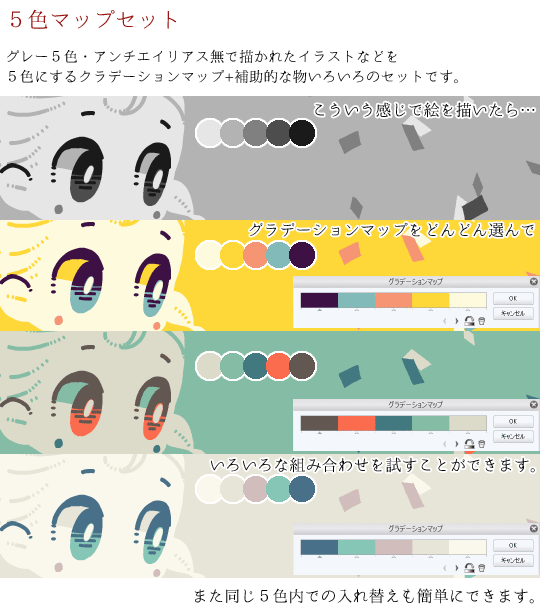 こういうセットです。
仕組み的に、ベースになる絵はアンチエイリアス無しで描く必要があります。
アンチエイリアスってなに?って場合多分検索すると教えてくれます。
長々書いてますが多分やってみたら難しくはないです。
■絵自体の描き方について
>>色のパレットだけあればいいよ派は
好きな塗り方したいから色だけとりあえず欲しいなーて場合は色みほん画像セットをパレット代わりにどうぞ。
配色パターン貧しいのでカスタマイズもご自由にどうぞ。
>>グレーのパレットあれば好きにやるよ派は
グラデーションマップセット+グレーパレットをどうぞ。
>>とにかくめんどう派は
グラデーションマップセット+レイヤーセットをどうぞ。
決まったレイヤーに描けばアンチエイリアス無&指定のグレーになるレイヤーセットです。
ついでに最初からグラデーションマップレイヤーも入っています。
各レイヤーにとりあえず線一本描いてみたら大体わかると思います。
素材からひっぱってきたらレイヤー順を好きなように入れ替えたり
コピーしたりしてお使いください。
※サブカラーを設定したブラシなども一色になってしまうので、
使う場合はレイヤーカラーのサブカラーを自分で設定するか
新規レイヤーなど作って使ってください。
あわせてグレーのパレットを使うと
パレットから色拾ってレイヤーカラーに設定するだけで色変更できて楽です。
■5色マップ(グラデーションマップ)について
グラデーションマップレイヤーの設定から「セット素材を読み込み」で
ダウンロードしたグラデーションマップセットを読み込んでください。
カテゴリごとにセット分けましたが分類は適当です。
グラデーションマップはカスタマイズしても何してもいいです。
お好きなグラデーションマップを自分で作って保存しておくと、
いつでもまた使うことができて良いです。
グラデーションマップ内の色の入れ替え方は
ノード(各色の下にある三角形)を左右に動かすと良いです。
位置はプレビューを見て色さえちゃんと入れ替わっていれば
適当でいいと思いますが、
一応左から10,30,50,70,90になっています。
きっちりしたい方はノードを選んだら数値入力すると良いです。
同じ位置にノードを重ねてしまっても、
数値の上にある左右方向マークを押すと切り替えられます。
あと絵が5色グレーなら普通のグラデーションマップでも5色になるので
色々おためしください。
■難点
グラデーションマップ未統合の状態での縮小表示は
実際にはないノイズのような色がでます。
あれ?と思ったら倍率100%にして確認してください。
途中どうしても実際の縮小結果が見たいという場合は
「表示レイヤーのコピーを結合」などで
絵を結合した状態のレイヤーを作ると良いです。見終わったら捨てたらいいです。
■ちょっとしたこと
このグレーだと絵描きにくいって場合は、
グラデーションマップで絵を描く時用の5色マップを作ってしまうと良いです。
描きやすければセット内の色でも良いかと思います。
ウェブ上にアップする絵なら3~4倍くらいのサイズで描いて、
仕上げに統合→縮小・補間方法/滑らかにすると
アンチエイリアスかかって滑らかな絵になると思います。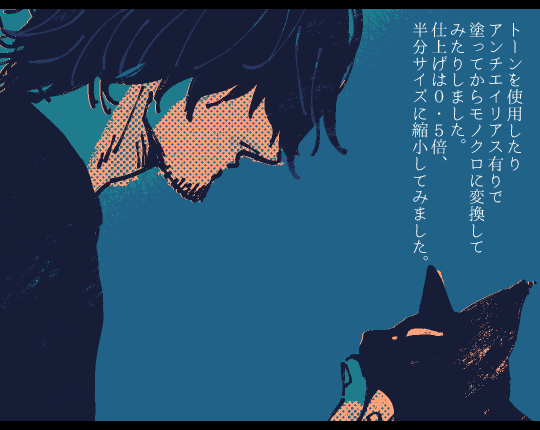 これは二倍で描いてました。文字は縮小後のあと乗せです。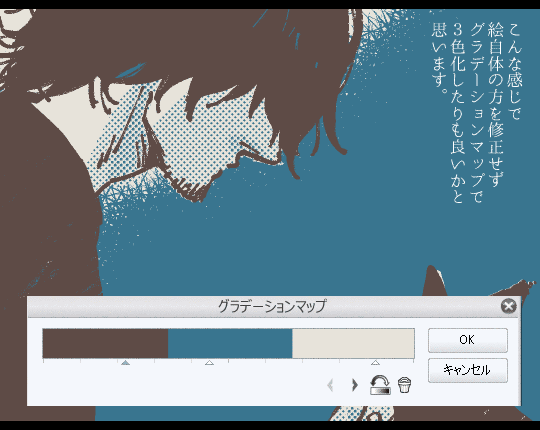 消したい色のノードをひっぱり下げる/上げるかノードを選んでゴミ箱アイコンクリックするとノード/色を削除できます。
■おまけブラシセットについて
これは表現色モノクロのレイヤーではなく、
グレーかカラーのレイヤーで使用してください。
メインカラーとサブカラーでグラデになるブラシです。
黒&白にして5色マップをかければいい感じに5色になると思います。
(ただ厳密には5色じゃないマップなので微妙な色違い出てくるかもしれません)
また、たとえばメインカラー4色目のグレーサブカラー2色目のグレーにすると
5色マップにしたとき4.3.2色目だけになります。
散布ブラシは形状そのもののサイズ変更するときは粒子サイズを調整してください。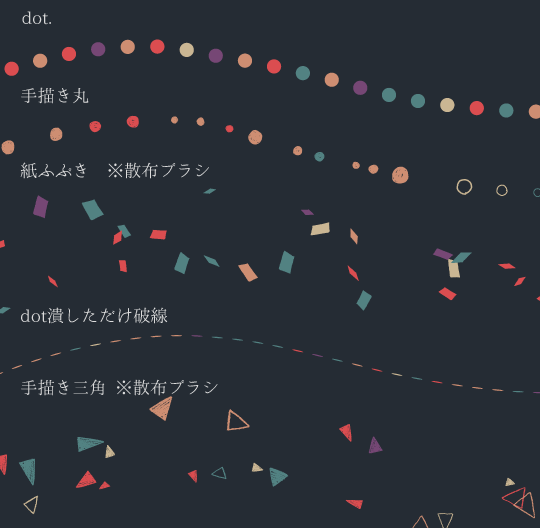 gradient map Set グラデーションマップセット
Color Book Image Set 色みほん画像セット
Bonus Brush Set おまけブラシセット
Content ID:1680943
Published : 7 years ago
Last updated : 7 years ago