Various sets of character pens (文字ペンいろいろセット)
文字ペンいろいろセット
Content ID:1686820
Translated by

* Some overlap with the brush shape that I have already distributed.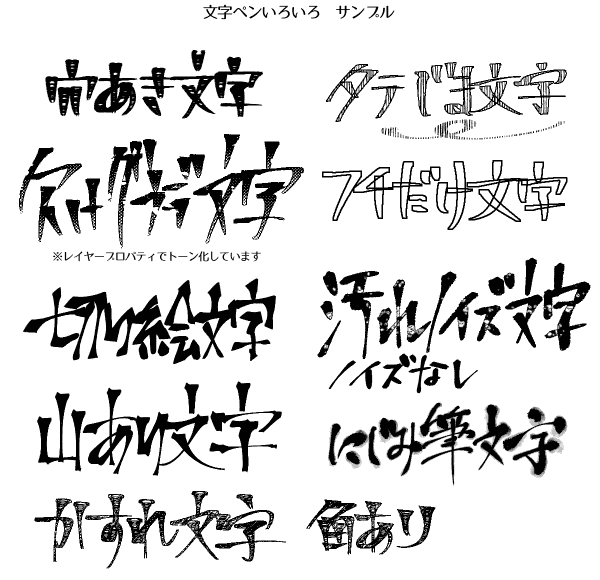 It is a brush to be able to write a letter such as processed easily.
It is assumed to use it in the display color gray.
Please to the written title and onomatopoeia.
Please try to write various because there is a brush that becomes thin when I pull it early.

Because I am making the print size of the 350dpi roughly as an aim,
For Web, 600dpi, etc., you may want to change the paper magnification rate. (Especially the vertical character pen.) )
Because there are a lot of brushes which set the starting and ending strengthened in shake reduction 6, I think that it is good to adjust the side when it is difficult to write.
※ Because the vertical stripes of the vertical character pen were the resolution low
I made a thing that gave the resolution. If you want to use it for printed materials, please use it.
* When vector layer, the expression color/monochrome layer disables the brush border of watercolor.
If you are creating a manuscript with monochrome (two-value), you can change the expression color to monochrome after you draw it in gray.
Create and use a layer in the "monochrome layer for ■ Pen" in the auto action for the letter pens in the distribution contents.
In fact, it creates a layer with a gray preview in black and white.
The alpha threshold is also adjusted, but please adjust to your liking.
About auto action
* Before using auto Action, save the active file.
You may be forced to quit.
It is also a good idea to close the application once, if you have preferences or brushes customize.
You can save preferences, dock customize, create new brushes, etc.
Because it is done when it completes successfully.
Create a layer for the letter pen for the two-valued manuscript auto action "monochrome layer for ■ Pen",
Moreover, the action to do a suitable processing was made.
The action for machining should be done with the selected layer of text.
I think that the result is considerably different by the image size,
Adjust the number dialog to correct the numbers.
Bonus action Sample.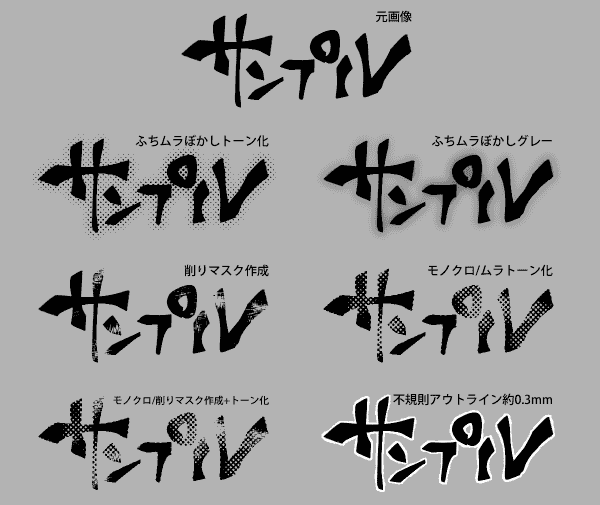 Irregular outline is hard to understand, but I feel slightly dirty and irregular than the edge of the layer property + the outline comes on top of the character. It's a small letter and maybe not too effective.
Example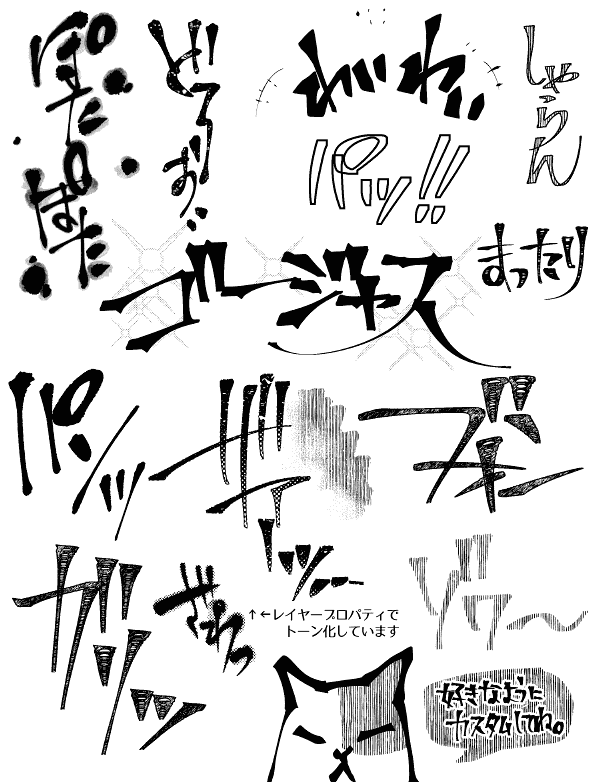 Gradation Missing letter pens are toning picks. The smudging brush is also fun to toning the pen and the character.

In the handwriting title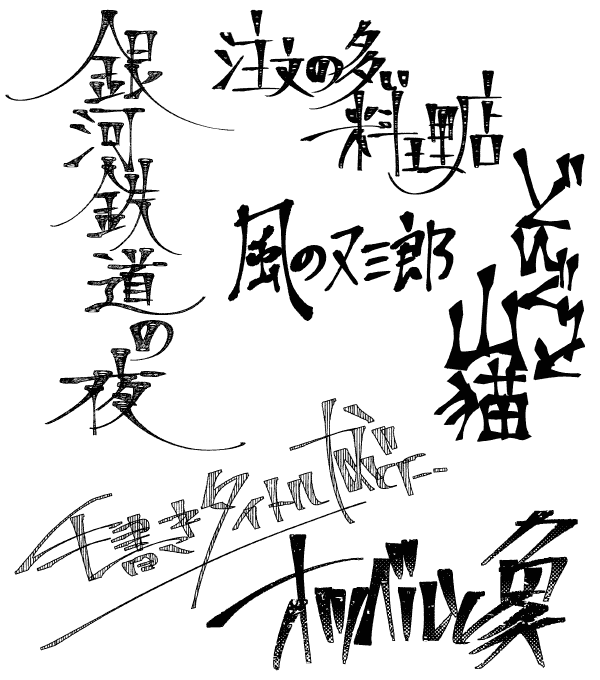 From the works of Kenji Miyazawa.
I became an elephant and Otzber likely to fight somehow robo.

■ Little Thing
Using a brush that you set border of watercolor, such as images to be uploaded to the web in scale,
If you care about the Jagi of the line filter blur-Use smoothing
It doesn't become smooth.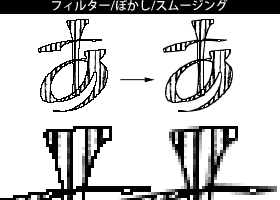 ※一部私がすでに配布しているブラシ形状等と重複しているものがあります。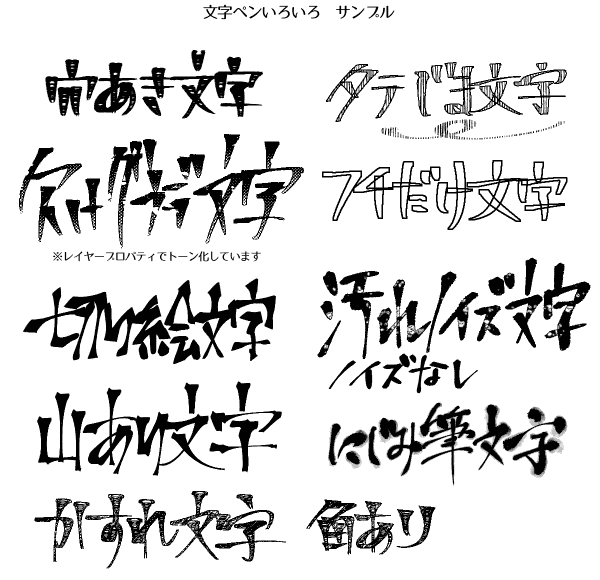 加工したような文字などを手軽に書けるブラシです。
表示色グレーでの使用を想定しています。
擬音や手書きタイトルなどにどうぞ。
早く引くと細くなるブラシなどありますので色々書いて試してみて下さい。

350dpiの印刷物サイズを大体目安に作っているので、
web用、600dpiの印刷物などの場合、紙質の拡大率をほどよく変更してください。(特にタテじま文字ペン。)
手ぶれ補正6で入り抜きを強めに設定しているブラシが多いので、書きにくい場合はその辺も調整すると良いと思います。
※タテじま文字ペンの縦縞が解像度低かったので
解像度をあげたものを作りました。印刷物に使う場合はよかったらそちらを使ってください。
※ベクターレイヤーと、表現色/モノクロのレイヤーはブラシの水彩境界が無効になります。
モノクロ(二値)で原稿を作成する場合、グレーで描いてから表現色をモノクロに変更するか、
配布内容にある文字ペン用オートアクションの中の「■文字ペン用モノクロレイヤー作成」でレイヤーを作成して利用してください。
実際はグレーだけどモノクロでプレビューしている状態のレイヤーを作成します。
アルファの閾値も調整済ですが好みに合わせて調整してください。
オートアクションについて
※オートアクションを使用する前に、作業中のファイルは保存してください。
強制終了する可能性があります。
また、環境設定やブラシのカスタマイズなどしていた場合、一度アプリケーションを終了したほうがいいです。
環境設定やドックのカスタマイズ、新規作成したブラシなどの保存は、
正常に終了した時に行われているからです。
・二値原稿向けに文字ペン用のレイヤーを作成するオートアクション「■文字ペン用モノクロレイヤー作成」と、
おまけに適当な加工をするアクションを作りました。
加工用のアクションは文字を書いたレイヤーを選択した状態で実行してください。
画像サイズによりだいぶ結果が違ってしまうと思いますが、
数値ダイアログ出すようにして数値修正して調整してください。
おまけアクションのサンプルです。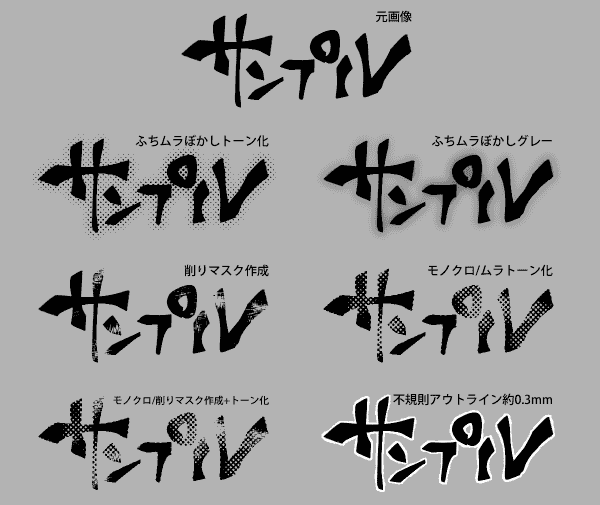 ・不規則アウトラインはわかりにくいですがレイヤープロパティのフチよりちょっと不規則に汚い感じ+文字の上にアウトラインがきます。小さい文字だと多分あんまり効果ないです。
<作例・擬音>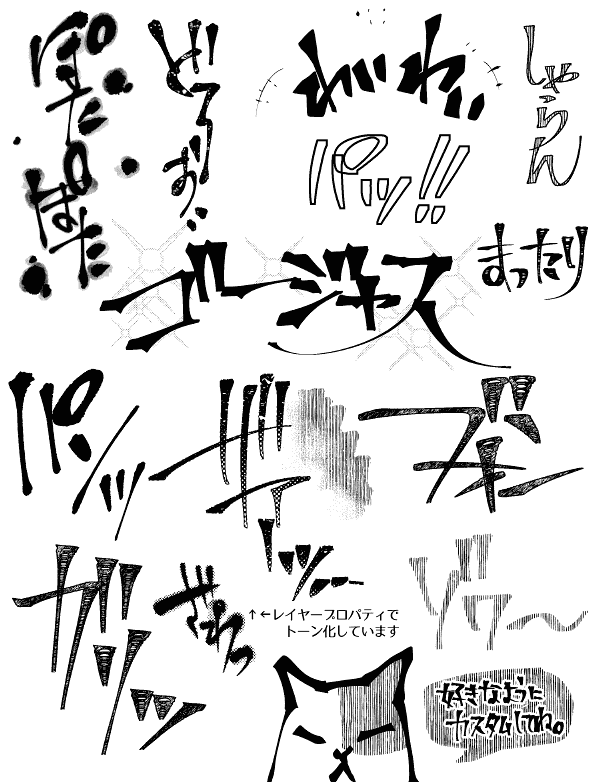 欠けグラデ文字ペンはトーン化おすすめです。にじみ筆文字ペンもトーン化しても楽しいです。

<作例・手書きのタイトルに>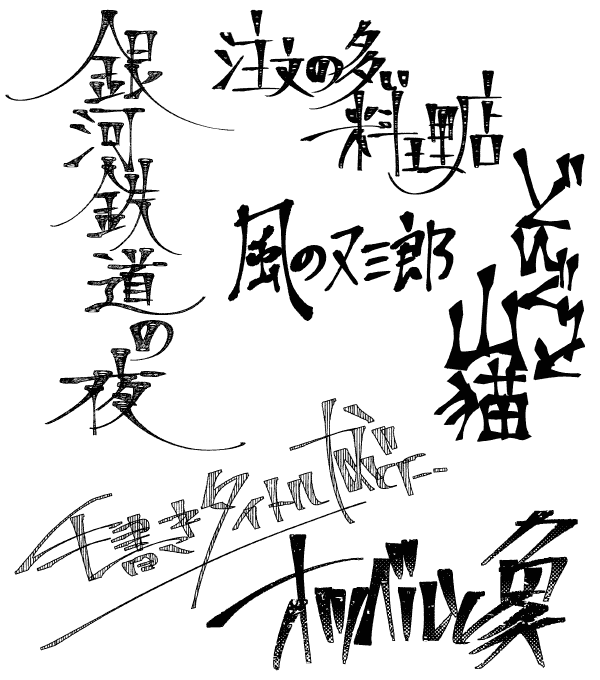 宮沢賢治作品より。
なんとなくロボで戦いそうなオツベルと象になってしましました。

■ちょっとしたこと
原寸でwebにアップしたい画像などで水彩境界設定したブラシを使って、
線のジャギが気になる場合はフィルターのぼかし-スムージングを使用すると
割と滑らかになったりならなかったりします。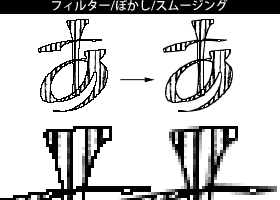 auto action for Letter pens 文字ペン用オートアクション
Vertical character Pen High resolution version タテじま文字ペン 高解像度版