Brush and various sets of fountain pen style (万年筆風ブラシと色々セット)
万年筆風ブラシと色々セット
Content ID:1679706
Translated by

A brush and gradient map, a set of textures and layers to draw a line with a shade of color, such as a fountain pen.
A little annoying. 万年筆のような濃淡ある色の線を描くためのブラシとグラデーションマップ、テクスチャとレイヤーのセットです。
ちょっと面倒です。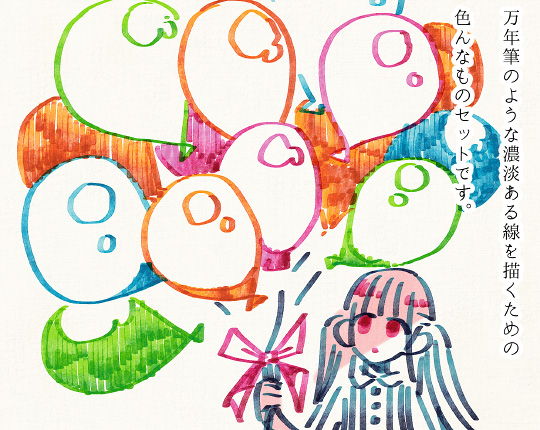 It is troublesome a little.
For full color.
I set the brush, the texture, the layer, the gradient map collection.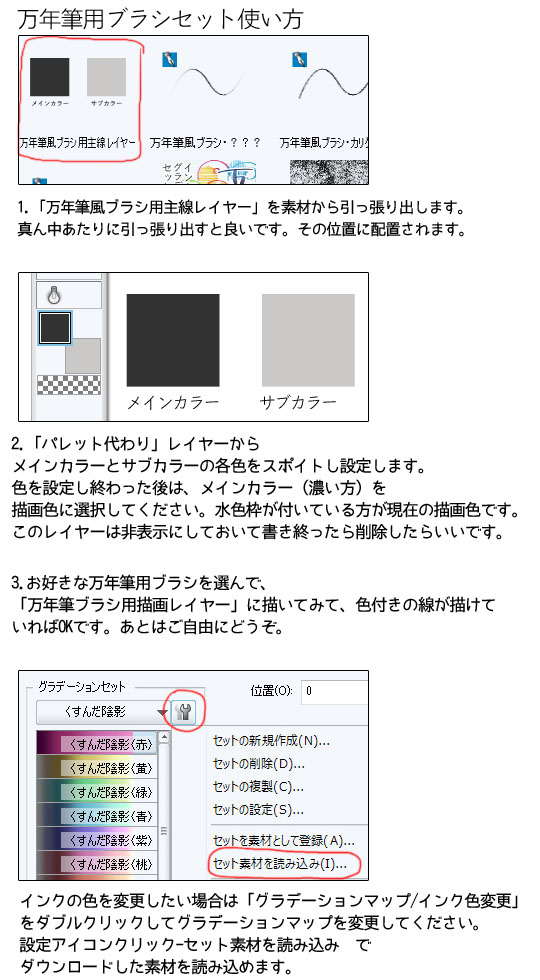 Other

The color of the main color and sub color is not to have to be strictly this color, but I think that it is good to make it gray with a dark gray and thin.
If you want to adjust the tint, adjust the level correction layer.
When you want to darken the color of the ink, and to thicken it, I think that it is good to make a gradient map by oneself or to put the tonal correction layer above.
Because the line drawing is opaque, I make a layer below and assume that I paint a color-line folder, but change it as you like.
Brush Swatch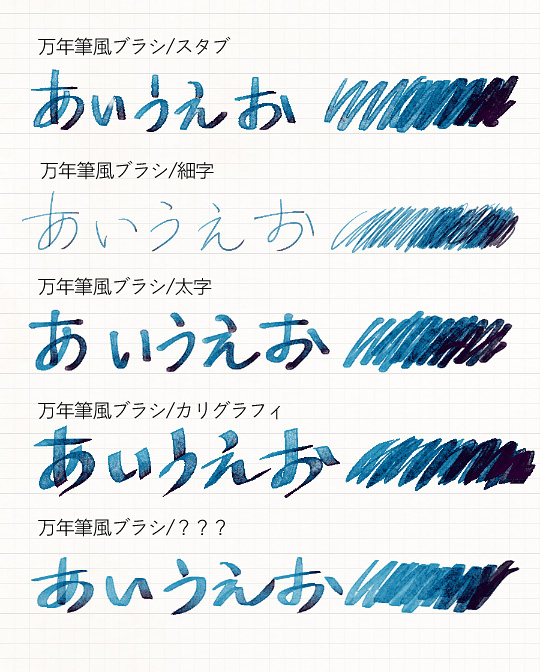 ??? I wanted to make a Flexnib, but it became one thing.
Mapping pen with weak pressure, it is a flat pen with strong pressure.
It is very interesting to be able to adjust the pressure well.
I think that the direction of the pen tip changes when the calligraphy is a pen tab corresponding to a slope.
gradient map Color swatch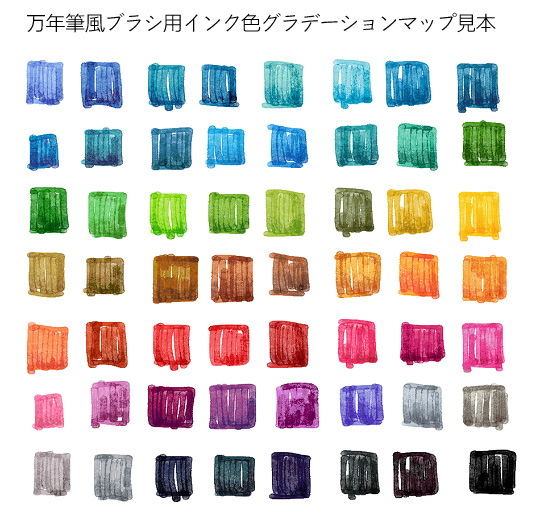 There are a lot of similar colors and it is rolled almost the same color. Please try to recreate and use it yourself.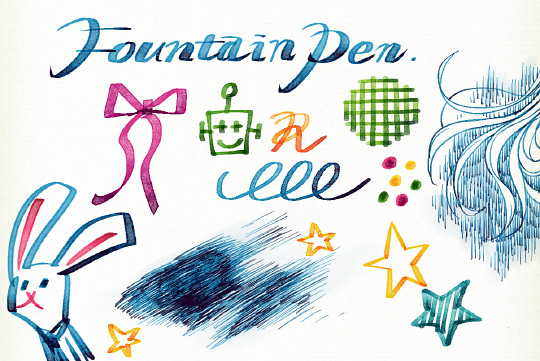 I think if you can play while experimenting with a variety of different ways of fellowship of the lines and subtle and delicate and so long line is a shade. I feel that I can also use a marker.
I want to remake it when a little more tidy way is thought.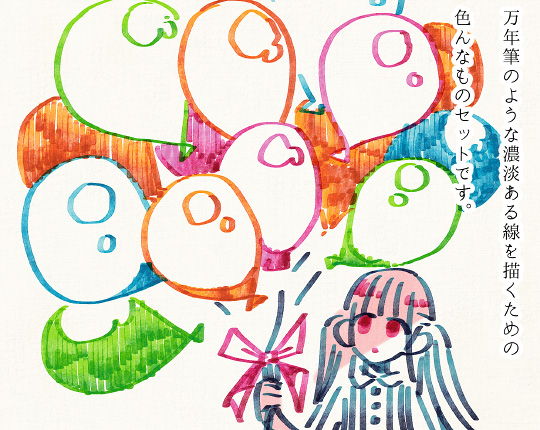 ※ちょっとめんどうです。
フルカラー用。
ブラシ、テクスチャ、レイヤー、グラデーションマップ集をセットにしました。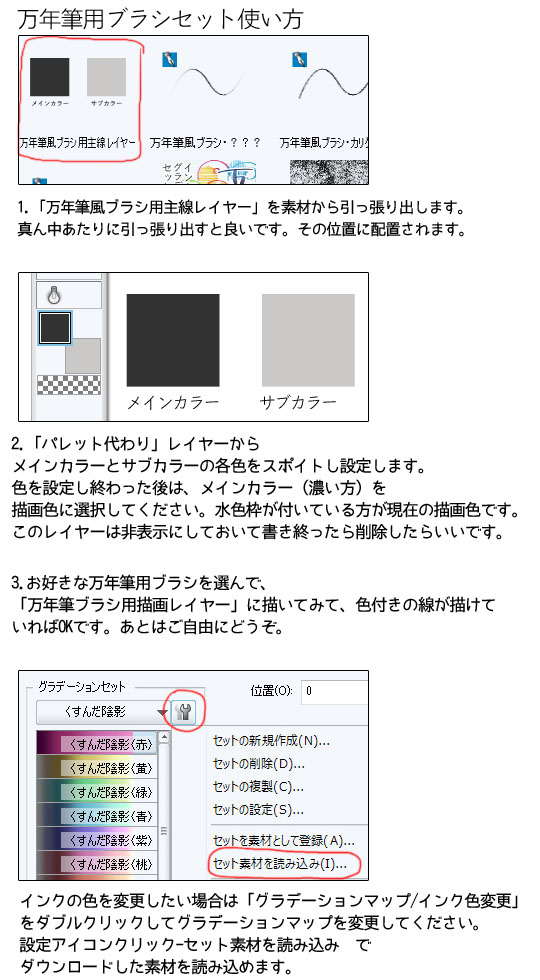 その他

メインカラーとサブカラーの色は厳密にこの色じゃないといけないわけではないですが濃いグレーと薄いグレーにしておくとよいと思います。
濃淡の具合を調整したい時はレベル補正レイヤーを調節したりしてください。
インクの色を彩度下げたい、濃くしたいという時はグラデーションマップを自分で作るかさらに色調補正レイヤーを上からかけたりするとよいかと思います。
線画は不透明なので、下にレイヤーを作り色を塗ることを想定して線画のフォルダーを乗算にしていますが、お好きなように変更してください。
ブラシ見本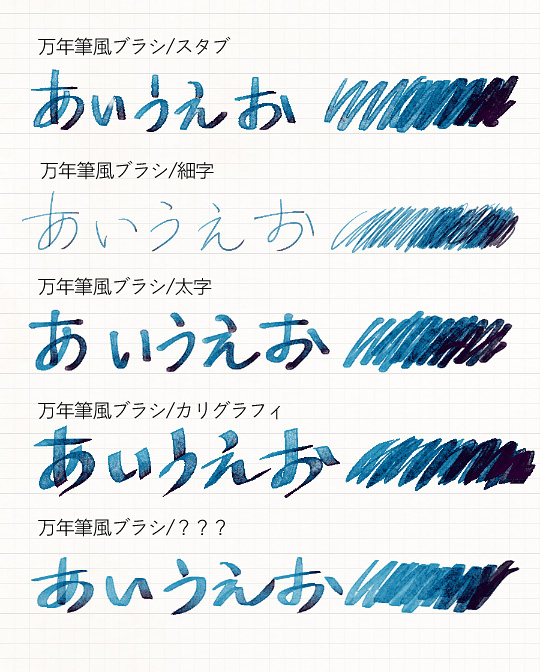 ???はフレックスニブを作りたかったけど別物になったものです。
弱い筆圧では丸ペン、強い筆圧では平ペンになります。
うまく筆圧調整できるとわりと面白いです。
カリグラフィは傾き対応してるペンタブだとペン先の向きが変わると思います。
グラデーションマップ色見本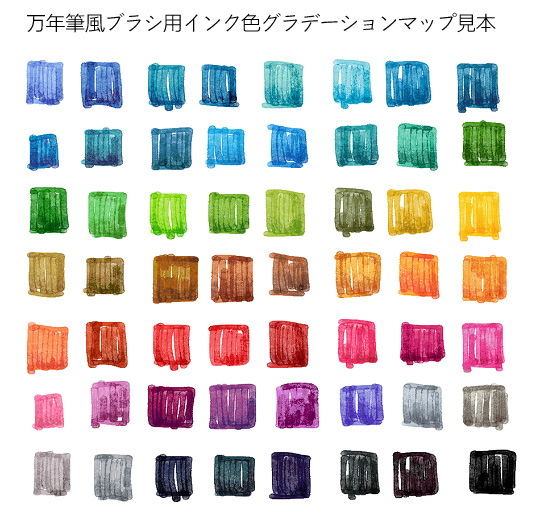 似た色が多い上ほぼ同色とかありまくります。自分でどんどん作り直して使ってください。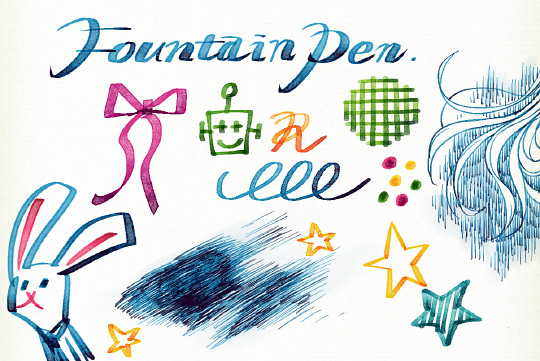 なんちゃって濃淡なので長い線だと微妙だったり線の交わり方が変だったりもしますが色々試しながら遊んでもらえたらと思います。マーカーぽくも使える気がします。
もう少しさっぱりしたやり方が思いついたら作り直したいです。
Brushes and various sets ブラシと色々セット
Content ID:1679706
Published : 7 years ago
Last updated : 6 years ago