[UPDATE] Light effect brush (【UPDATE】光効果ブラシ)
【UPDATE】光効果ブラシ
Content ID:1732550
Translated by

It is a brush which can draw simple light effect. Brushes added two points. シンプルな光効果が描けるブラシです。ブラシ二点追加しました。
Because I use the Cristablasi tip shape "Circular", I can choose hardness from a soft blur to the one which shape is clear.
You can be selectively using it to your liking.
Added 1/6 brushes two points.
Because it is the same setting brush except the added brush, the DL previously should DL an additional brush.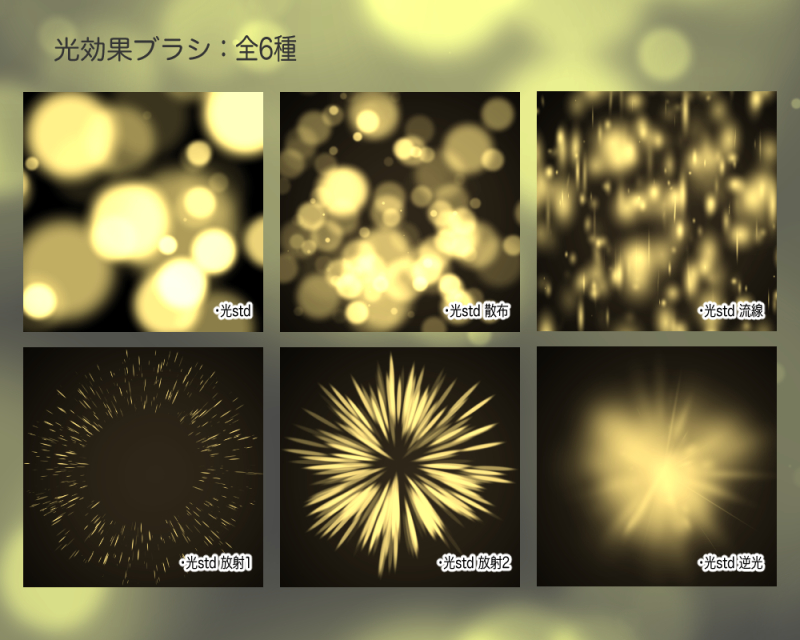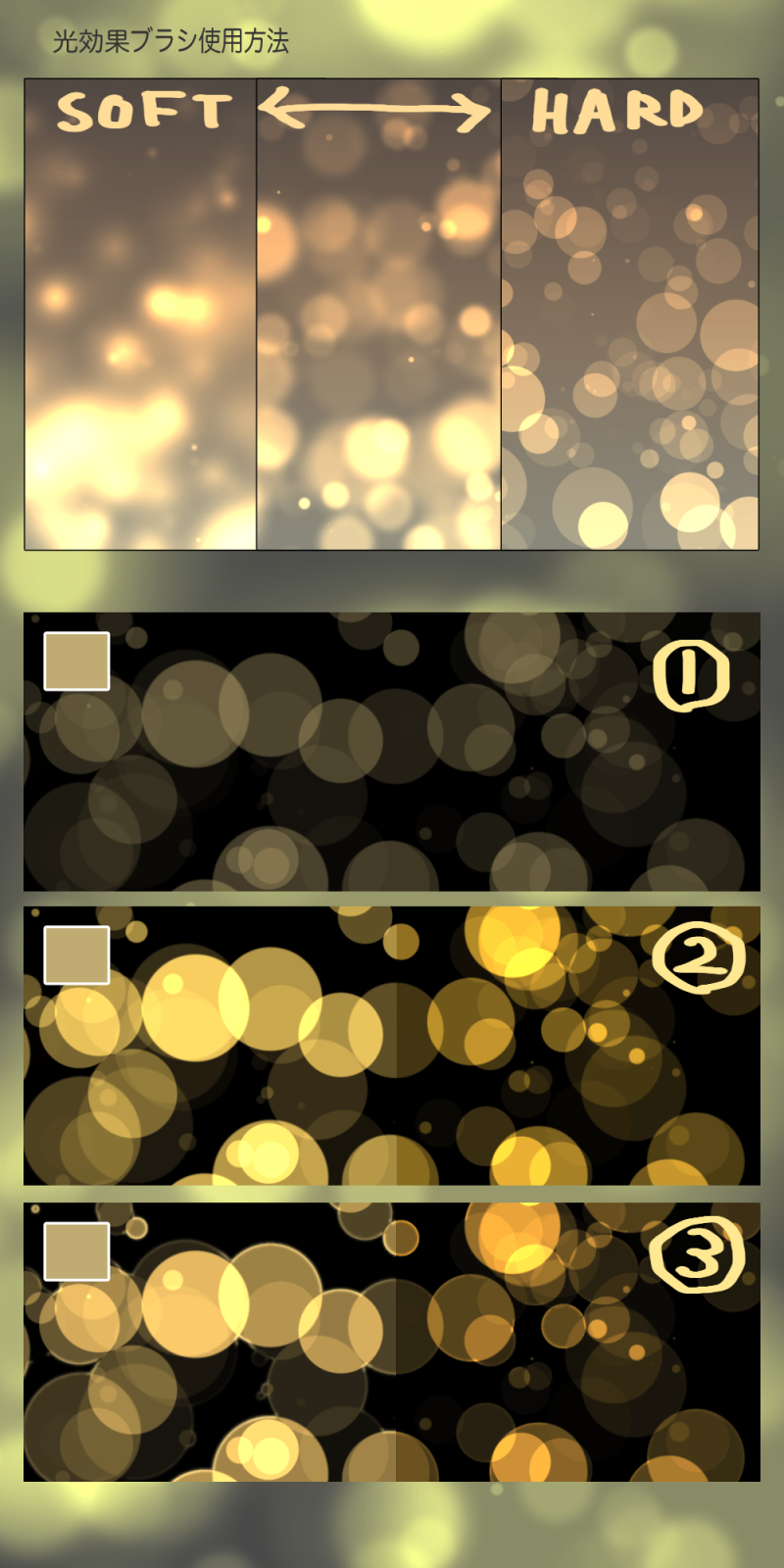 Because it is a brush that assumes the light effect, it creates a one layer on the original image layer, changes the layer settings to "dodge (Light)", "Addition (light)", and emits it beautifully when drawing it.
If the original image layer is close to black and does not emit well, once you create a normal layer, then draw it, copy the layer and change the layer settings to either "dodge" or "Add (light)" and it emits fire.
1
After creating new layer on a black background, it draws with a brush.
2
You are copying a layer drawn with a brush from a state of 1 and then changing the layer settings.
Left: "Addition (Light emitting)"
Right: "dodge (Light Emitting)"
3
From the state of "1", layer property "border effect" → "border of watercolor" is set, the layer is copied, and the layer settings is changed.
Layer configuration (starting from bottom): a black background, a layer drawn with a brush, and two copies of the copied layers.
Within the copied layer
Under: "Bibbit Light"
Top: Left "Add (light)" Right "dodge (Light Emitting)"
And set.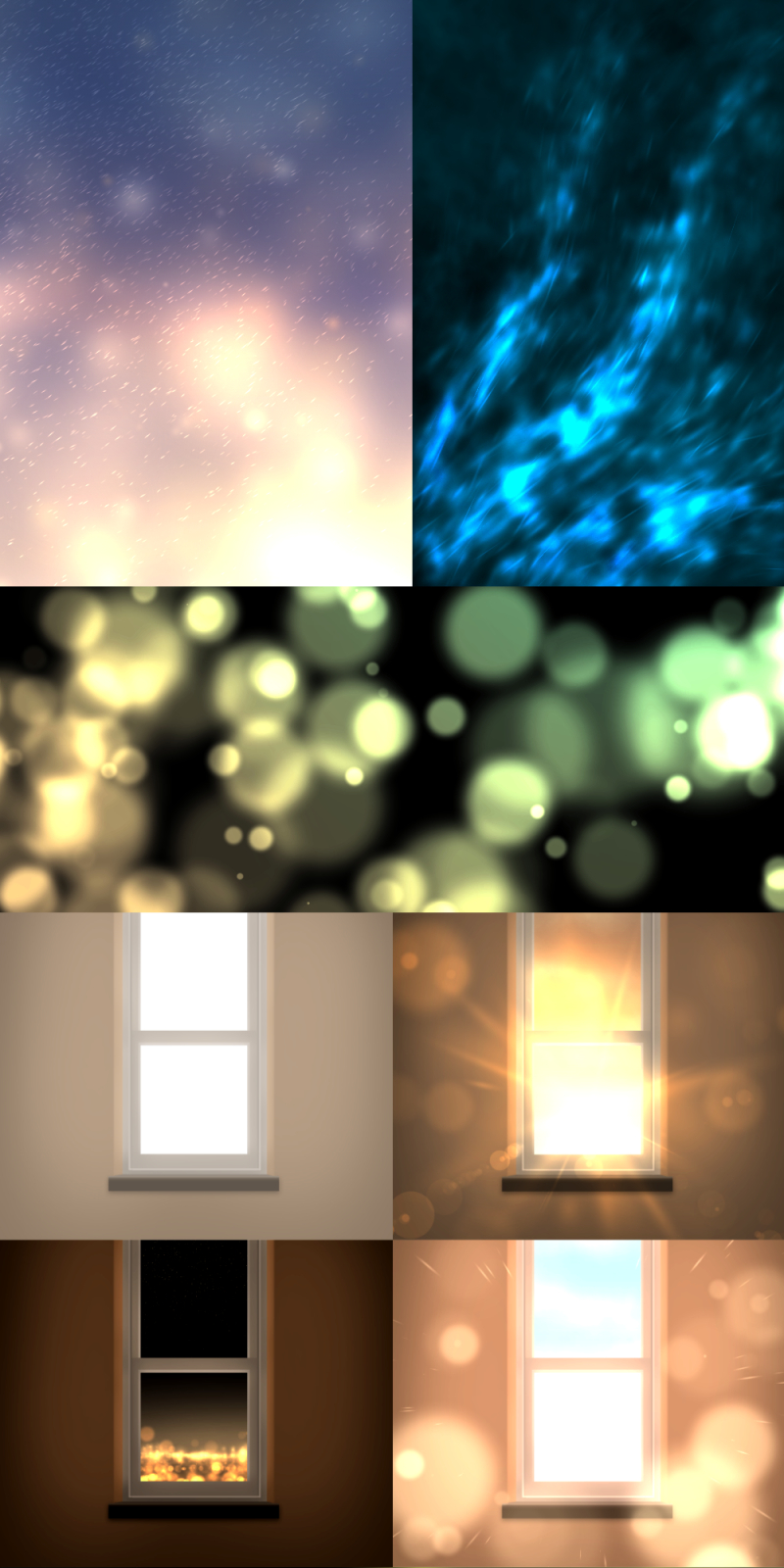 Using this brush for the image can also represent effects like lens flare.
The initial value brush size 2000px.
Please use it to change to a preference setting such as "tool property" and "sub tool detail".
When I made a brush like lens flare myself, Cristablasi's tip shape "circular" was so nice outside, I tried to publish this brush.
1/6 Update
Brushes added two points.

The brush that I added is the type which can play like fireworks.
You can draw the effect of light, and draw a simple fireworks in combination with the brush that is UP first.
Please feel free to use it to your liking.
This is the brush from which the light effect brush is born.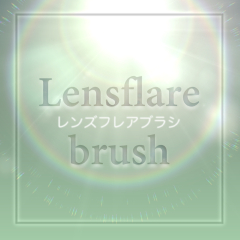 LENS Flare Brush
https://assets.clip-studio.com/ja-jp/detail?id=1732480
クリスタブラシ先端形状「円形」を使用してますので、柔らかいボケたものから形がはっきりしたもの迄硬さが選べます。
好みに合わせて使い分ける事が出来ます。
1/6 ブラシ二点追加しました。
追加ブラシ以外は同じ設定ブラシですので、先にDLされた方は追加ブラシをDLしてください。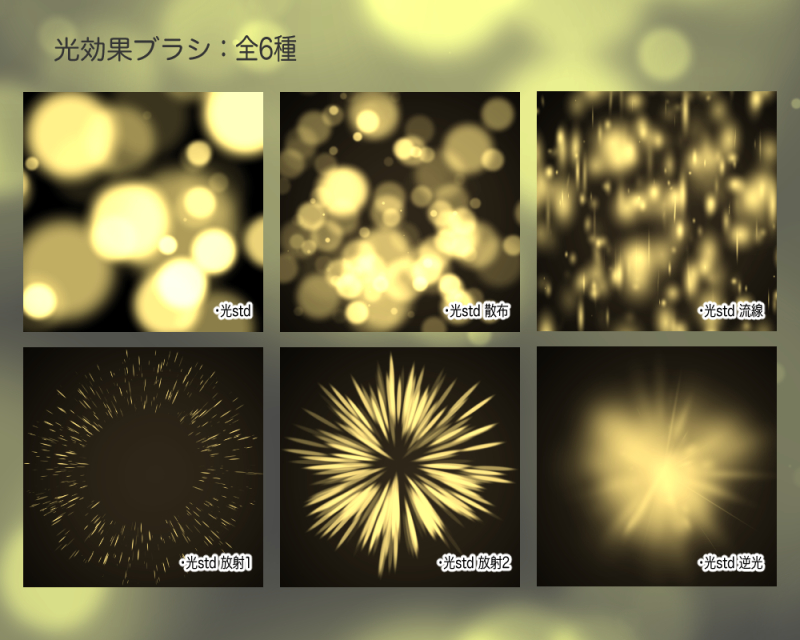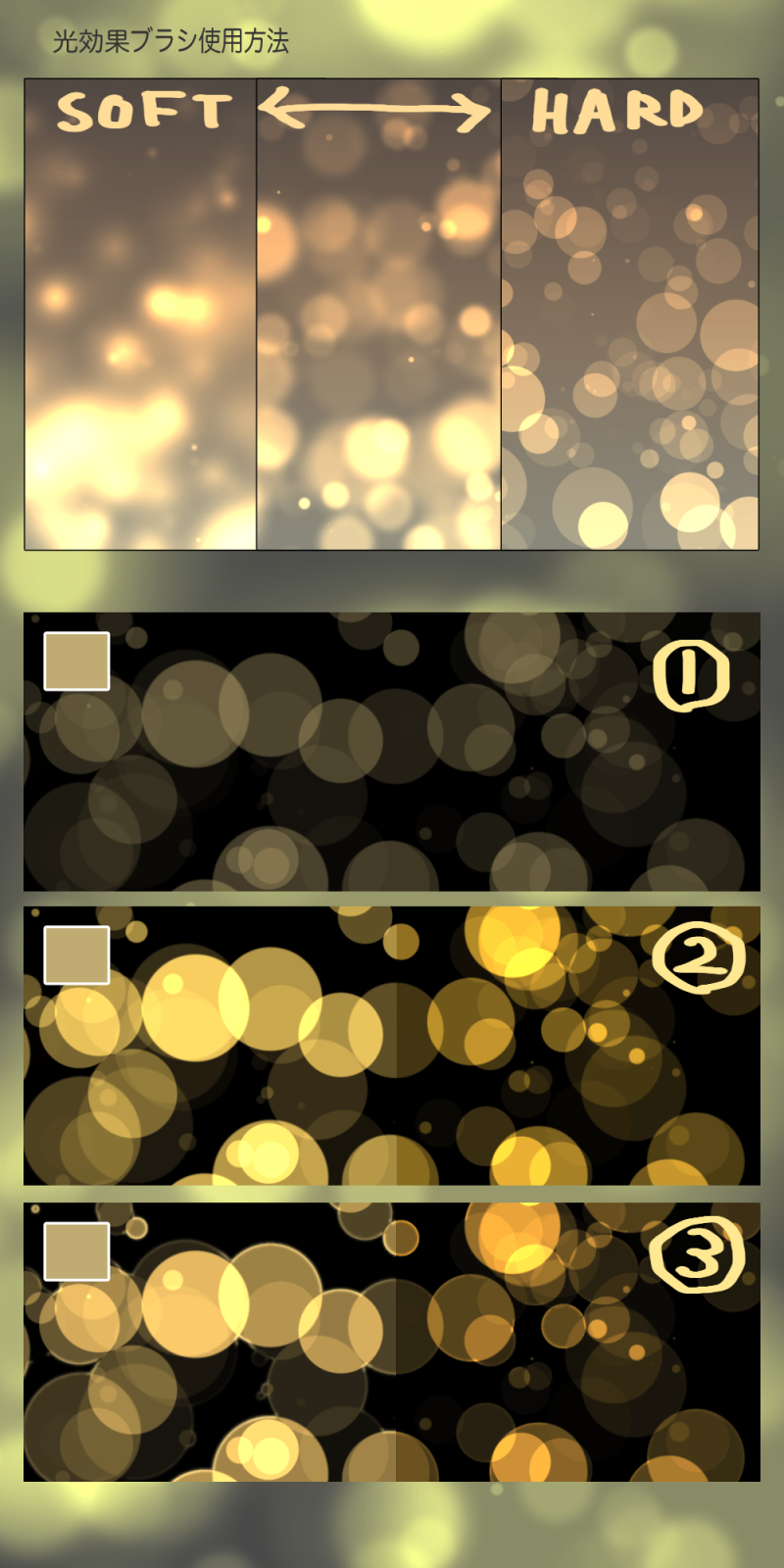 光効果を想定しているブラシなので、元画像レイヤーの上に一枚レイヤーを作成し、レイヤー設定を「覆い焼き(発光)」「加算(発光)」に変更してから描画すると綺麗に発光します。
元画像レイヤーが黒に近いと上手く発光しない場合、一度普通のレイヤーを作成してから描画、そのレイヤーをコピーしてレイヤー設定を「覆い焼き(発光)」「加算(発光)」どちらかに変更すると発光します。
1
黒背景の上に新規レイヤー作成後、ブラシで描画しています。
2
「1」の状態からブラシで描画したレイヤーをコピーした後、レイヤー設定を変更しています。
左:「加算(発光)」
右:「覆い焼き(発光)」
3
「1」の状態から「レイヤープロパティ」の「境界効果」→「水彩境界」と設定、そのレイヤーをコピー、レイヤー設定を変更しています。
レイヤー構成(下から順):黒背景、ブラシで描画したレイヤー、コピーしたレイヤー二枚。
コピーしたレイヤーの内
下:「ビビットライト」
上:左「加算(発光)」右「覆い焼き(発光)」
と設定しています。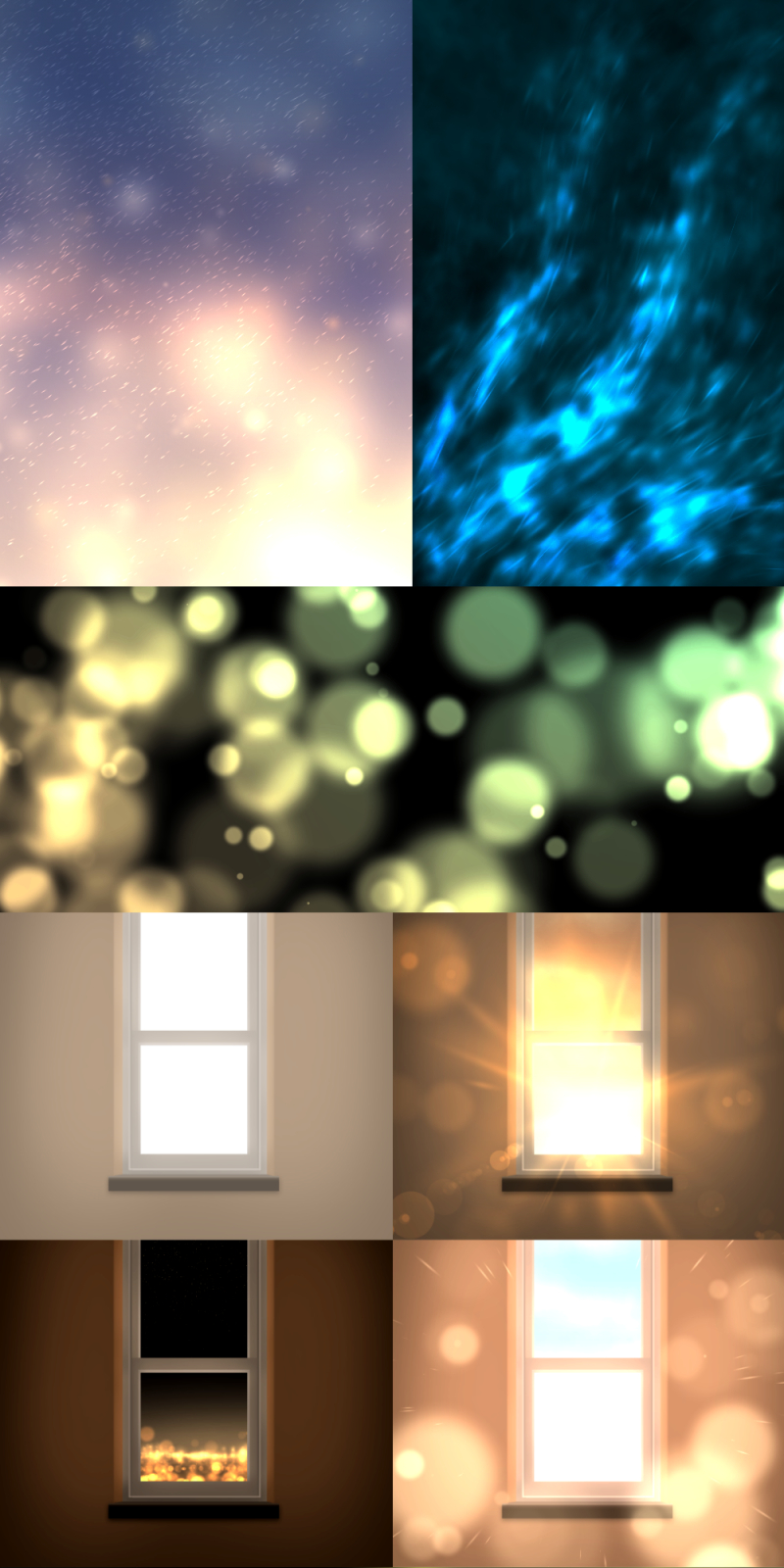 画像にこのブラシを使うとレンズフレアのような効果も表現できます。
初期値ブラシサイズ2000pxになってます。
「ツールプロパティ」「サブツール詳細」などで好みの設定に変更して使用してください。
レンズフレアのようなブラシを自作した時に、クリスタブラシの先端形状「円形」が思いの外使い勝手が良かったので、このブラシを公開してみました。
1/6更新
ブラシ二点追加しました。

追加したブラシは花火のように弾けるタイプです。
先にUPしているブラシと組み合わせて光のエフェクトを描いたり、簡易的な花火を描けたり出来ます。
こちらもご自由に好みに合わせて使用してください。
「光効果ブラシ」が生まれる元となったブラシです。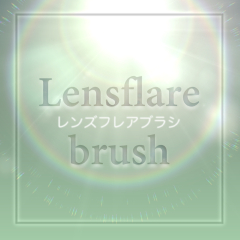 「レンズフレアブラシ」
https://assets.clip-studio.com/ja-jp/detail?id=1732480
Light effect Brush 光効果ブラシ
Update history
1/6 Brush two points added Revision of the explanation and use example 1/7 1/6 ブラシ二点追加
1/7 解説・使用例修正