Broken Glass 3D (Free Placement) (割れガラス3D(配置自由))
割れガラス3D(配置自由)
Content ID:2032085
Translated by

It is a 3D material of broken glass that allows you to freely place fragments.
I'm breaking flat glass like that.
Please use it to assist glass drawing. 破片を自由に配置できる割れガラスの3D素材です。
板ガラスをそれっぽく割っています。
ガラスの作画補助にご利用ください。
〇 Overview and characteristics of the material

It is a 3D material of broken glass that allows you to freely place fragments.
I made it because I often get lost in drawing scenes and effect expressions that break mirrors.
Each piece can be moved and adjusted independently, making it easy to get closer to the image.
It is assumed that you can extract the line art (EX only) and add it by hand as needed, or use it as a draft or around.
Although it can be placed freely, it is difficult to change the position of all the pieces, so I have set several layouts.
Please use it according to your purpose from the [sub tool detail]→[object]→ [Layout] column ~.
We aim to be a material that strikes a balance between versatility and freedom!!
If you are "troublesome to draw a little frame background ...", please do!

〇 Composition of materials

The object configuration looks like this: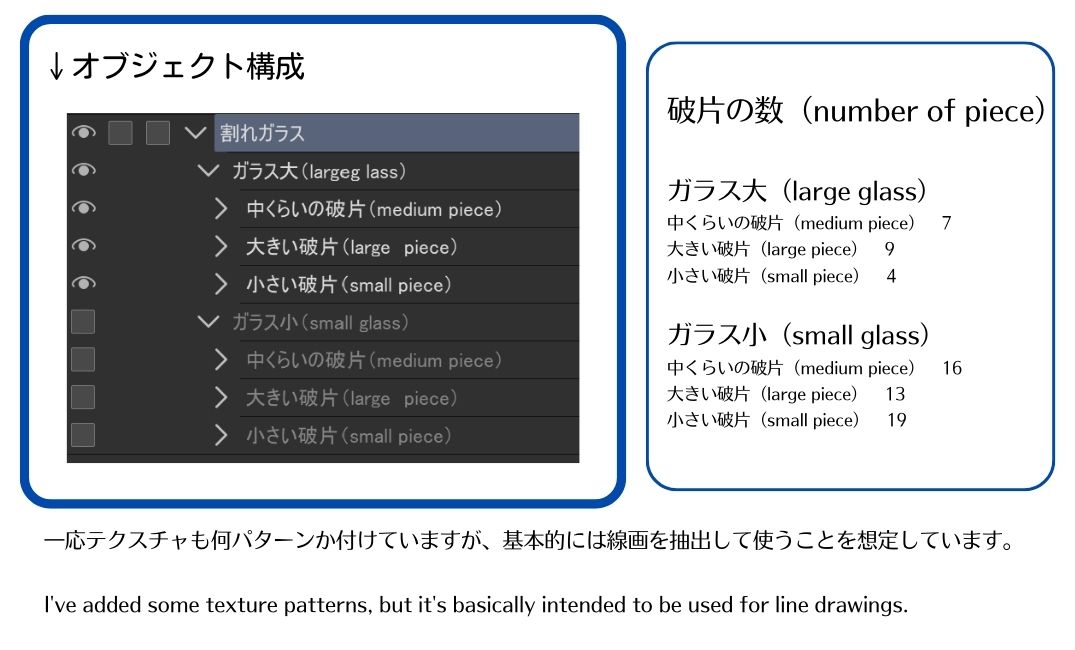 The size of the glass is quite large and there are few fragments.
The small glass is slightly larger than the usual full-length mirror and is made with more fragments.
〇 Flow of use and examples of use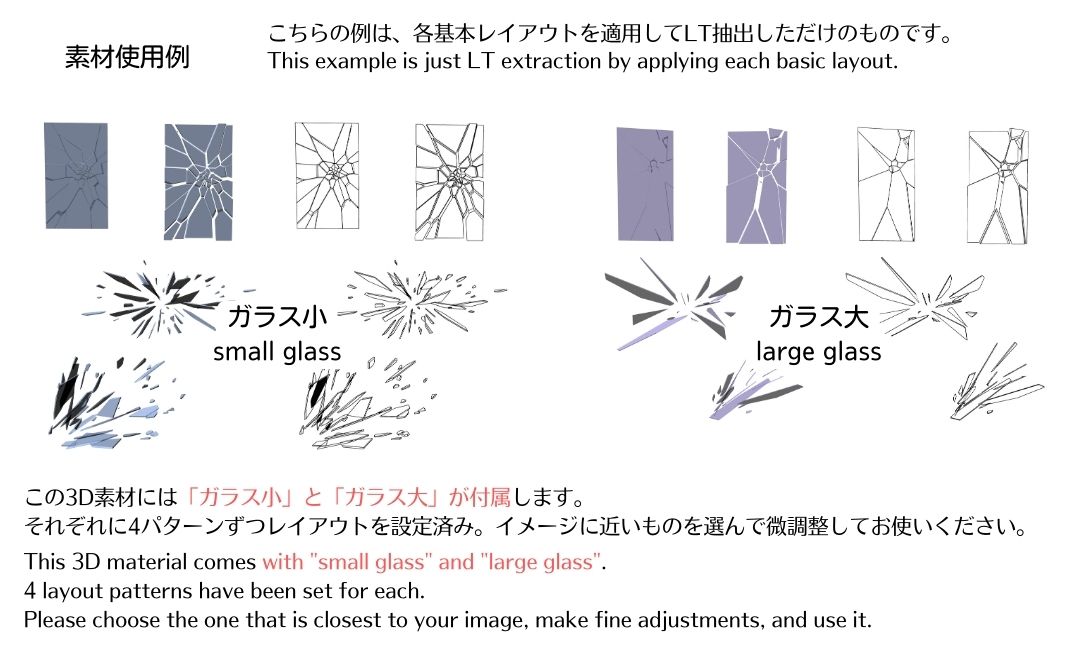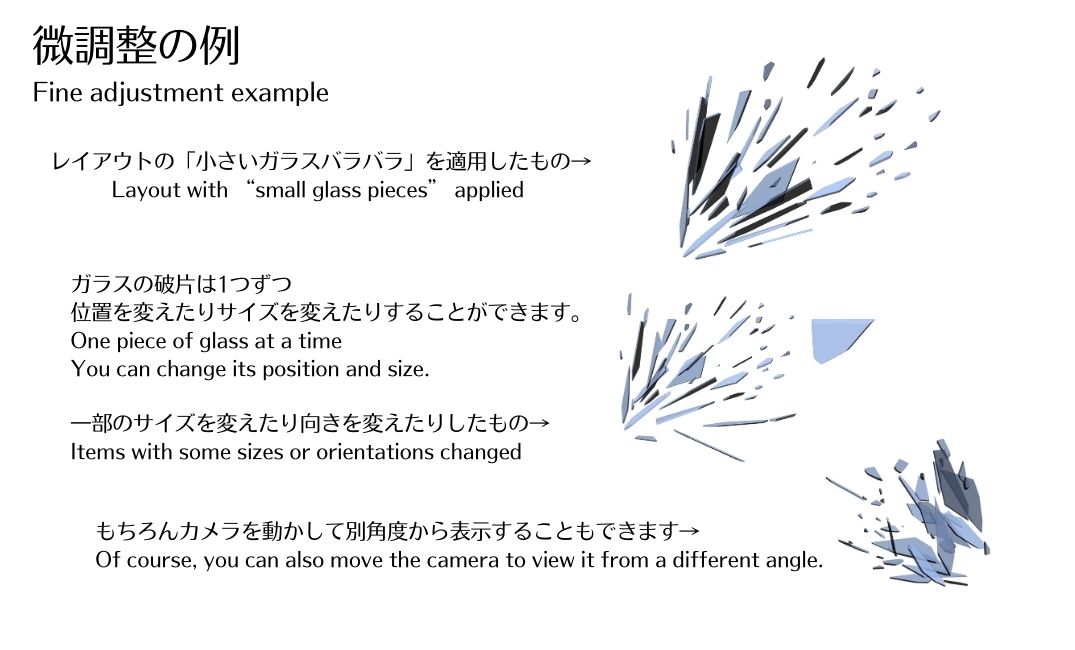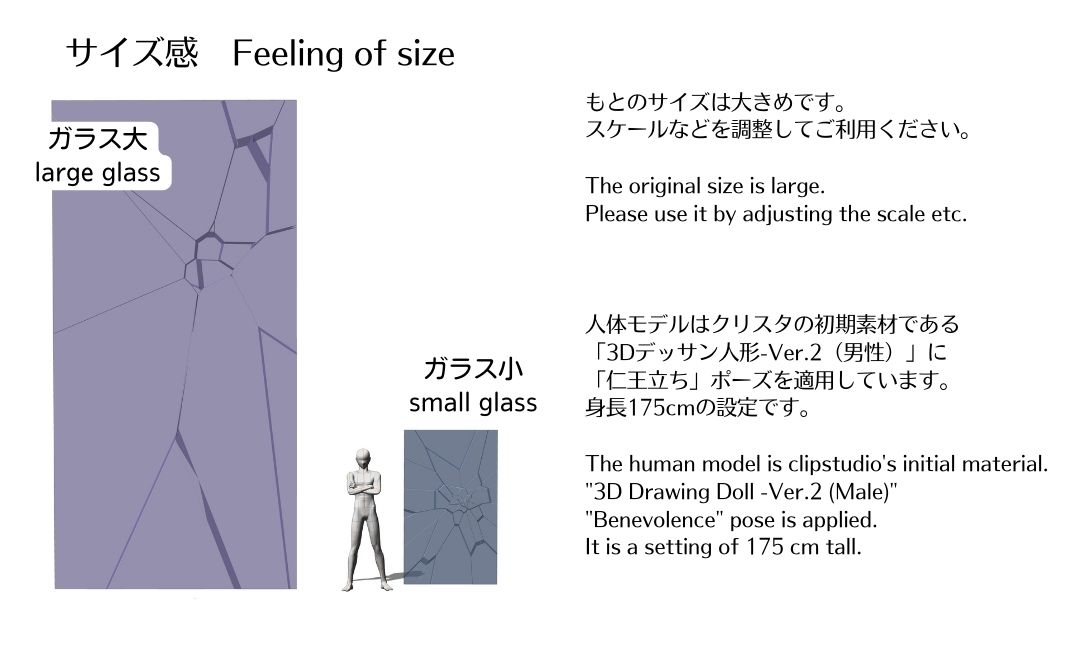 〇 Convenient usage
・About angle

Some camera angles are set as "basic angles".
To use it, select the one closest to the image from the [sub tool detail] → [Camera] angle column and apply it.
It is easier to work with the flow of fine adjustment after applying the angle ~!
・ About line drawing of 3D materials (EX only)
After adjusting the angle of the 3D material, you can make a line drawing with [Layer] → [Layer LT Conversion].
Please note that CLIP STUDIO Pro does not have this lineart extraction function.
・Layout
We have set several patterns for the object to display.
We would be happy if we could help you place the debris.
You can apply → [object] → [sub tool detail] from the [Layout] column!
・ About movable settings
This material is not set to move.
* This "movable setting" is a setting to express movement with numerical angles!
Even if this setting is not set, those that are divided into parts (object separated) can be moved.

All fragments can be moved separately.

〇素材の概要・特徴

破片を自由に配置できる割れガラスの3D素材です。
鏡を割るシーンやエフェクト表現の作画で迷うことが多いので作りました。
それぞれの破片を個別に移動、調整できるので、簡単にイメージに近づけることができます。
これで線画を抽出(EXのみ)して、必要に応じて手で描き足す、もしくは下書きやあたりとして使うというような使い方を想定しています。
自由に配置できるとはいえ全部の破片の位置を変えるのは大変なので、レイアウトをいくつか設定してあります。
[サブツール詳細]→[オブジェクト]→[レイアウト]欄から用途に合わせて使ってください~。
汎用性の高さと自由度のバランスを取った素材を目指しています!!!
「ちょっとしたコマの背景作画めんどくさ……」という方はぜひどうぞ!

〇素材の構成

オブジェクト構成は以下のような感じです。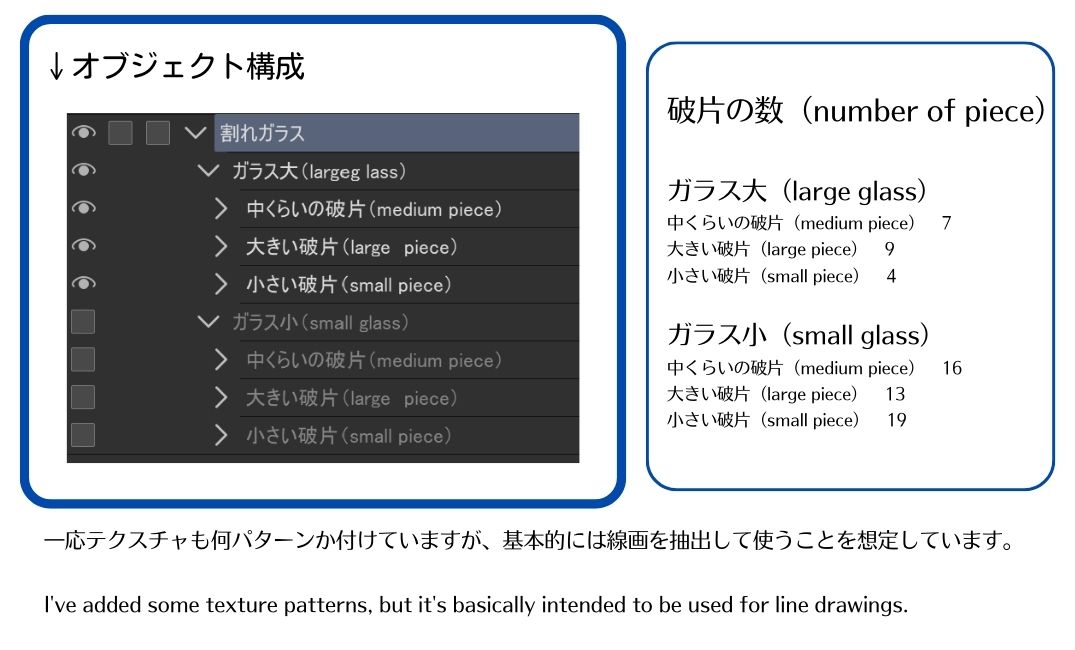 ガラス大はかなり大きめ、破片少なめです。
ガラス小はよくある全身鏡よりもやや大きめ、破片多めで作ってあります。
〇使用の流れと使用例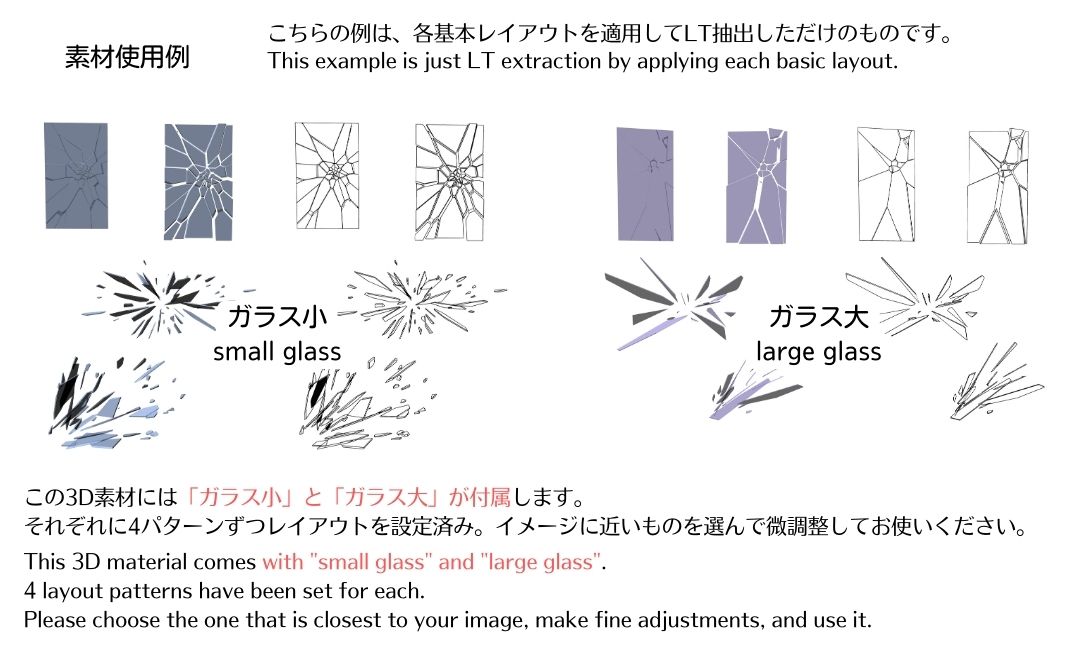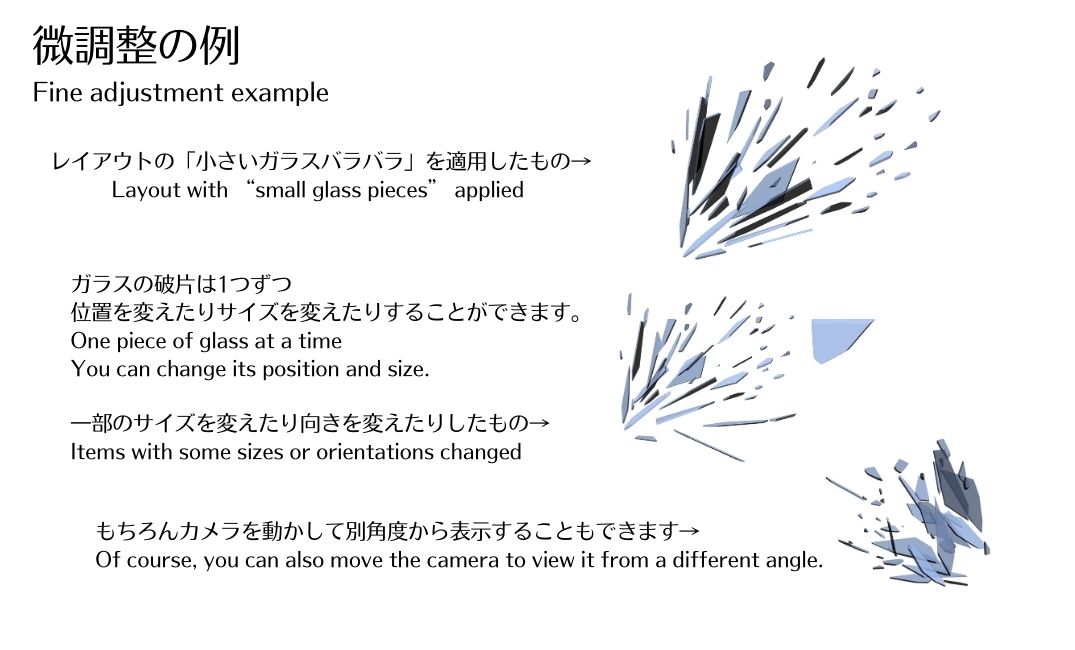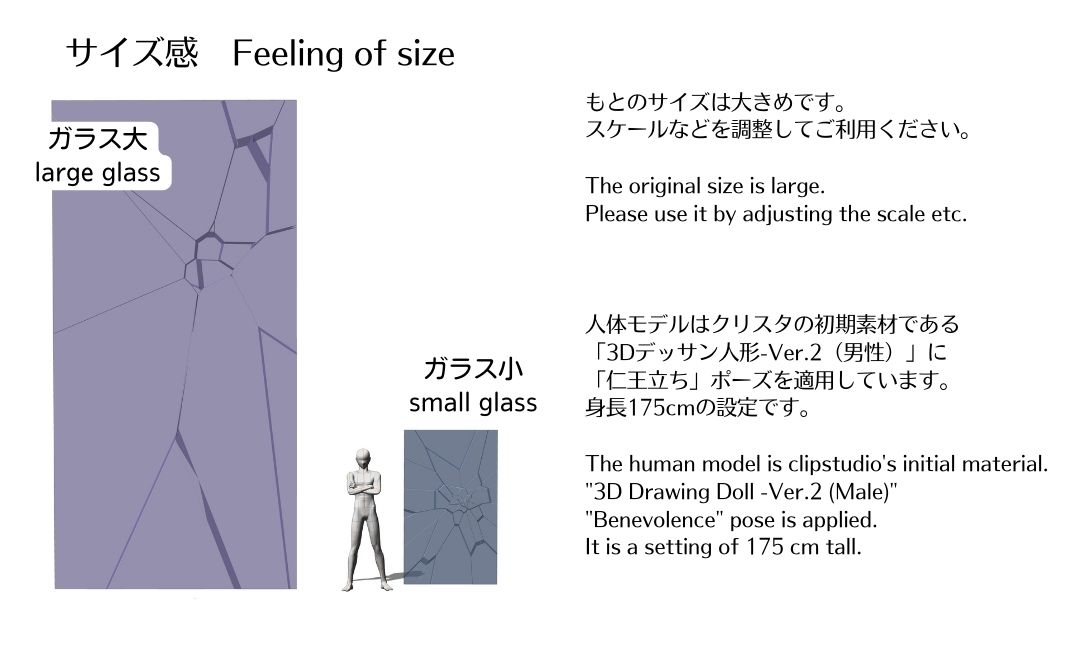 〇便利な使い方
・角度(アングル)について

いくつかのカメラ角度を、「基本の角度(アングル)」として設定しています。
使用する場合は[サブツール詳細]→[カメラ]のアングル欄から、イメージに近いものを選んで適用してください。
角度適用後に微調整という流れで作業すると楽です~!
・3D素材の線画化について(EXのみ)
3D素材の角度を調整し終えたら、[レイヤー]→[レイヤーLT変換]で線画化できます。
クリスタProにはこの線画抽出の機能がないので注意してください。
・レイアウトについて
表示するオブジェクトについて、いくつかパターンを設定しています。
破片配置のお手伝いができれば幸いです。
[サブツール詳細]→[オブジェクト]→[レイアウト]欄から適用できます!
・可動設定について
本素材では可動設定を行っておりません。
※この「可動設定」は数値で角度をつけた動きを表現するための設定です!
この設定がされていなくても、パーツ分け(オブジェクト分け)されているものは位置を動かすことができます。

全破片別個に動かせます。

Material マテリアル
Pure white (non-transparent)

真っ白(非透過)
disposition 配置
Large glass crack

大きいガラスひび割れ

Small glass crack

小さいガラスひび割れ

Large glass loose

大きいガラスばらばら

Small glass loose

小さいガラスばらばら

Large and small glass pieces

大小ガラスばらばら

Large glass unidirectional alignment

大きいガラス一方向並び

Small glass unidirectional line

小さいガラス一方向並び

Large glass crack

大きいガラスひび離

Small glass crack

小さいガラスひび離
Angle アングル

Update history
2023/9/16 Material has been released.       The material data capacity was much larger than stated, so we checked and updated the data.       It seems that the capacity increases when uploading to ASSETS, so I have removed the description in the description. 2023/9/16 素材を公開しました。
      素材データ容量が記載よりかなり大きかったので、データを点検しアップデートを行いました。
      ASSETSへアップロードした際に容量が増えてしまうようですので、説明文での記載を取りやめました。