Thick coating Brush Set (厚塗りブラシセット)
厚塗りブラシセット
Content ID:1683127
Translated by

It is a brush set for thick coating made to be painted with a feeling to leave the brushwork as much as possible. I think that it is fun when lump crush. なるべく筆致を残す感じで塗れるように作った厚塗り向けのブラシセットです。ごりごりぐりぐり塗り込んでいくと楽しいと思います。
It is a brush set for thick coating made to be painted with a feeling to leave the brushwork as much as possible.
Please leave and use if there is something you like too much because there are many.
The brush name is applied to make it easy to understand.
* Brush shape and some of the materials that have already been distributed are duplicated.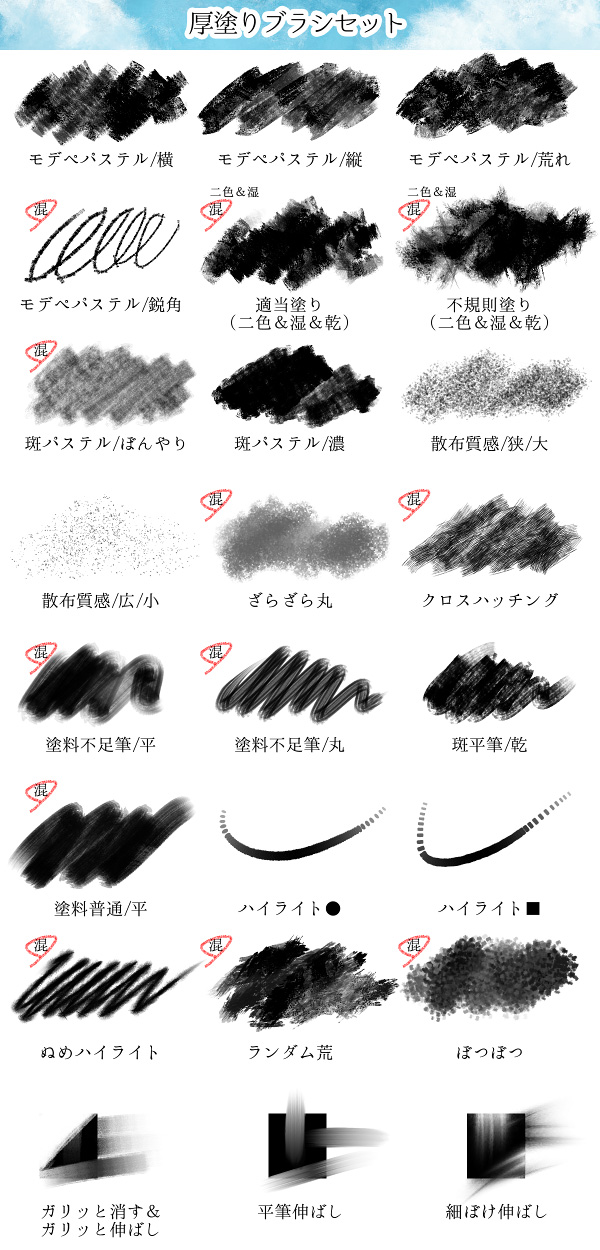 Description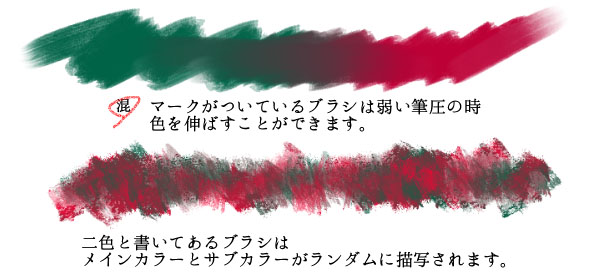 < Modepepastel/Sharp >, if you are using a tablet that detects the inclination of the pen, I think that it becomes thin when I put up a pen and chubby to sleep.
Highlights ■ And ● is not particularly thick-filled feeling but I put. I might become familiar with lump overlap.

Brush adjustment

I tried to be able to adjust easily as much as possible while painting other than the brush that makes the mixed colors.
Brush density, I think you may want to adjust the opacity to your liking.
Texture
It is a texture used for the texture of the brush, but I think that I can use it for a good feeling comparatively texture combine. It is for making groundwork.
Sample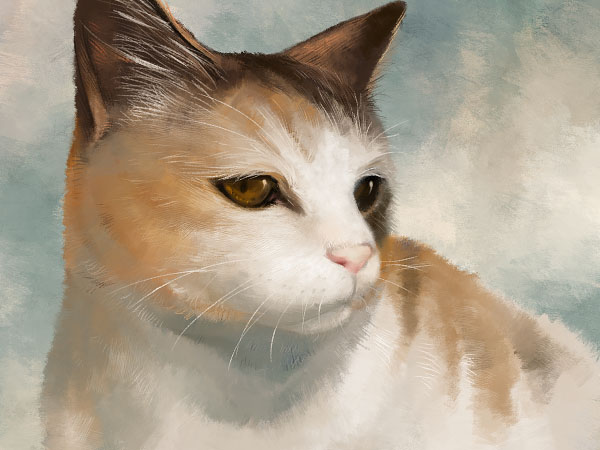 A copy of the cat that was taken. I use a brush like this. I draw the finish size twice. The filter/sharp/unsharp mask was applied to the nail before and after the finish reduction.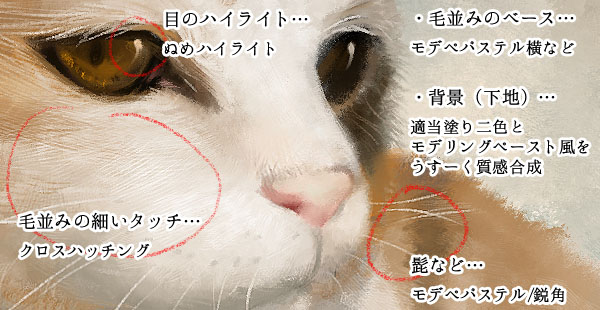 Nume Highlight is the name of the I and leather, so I wanted to paint the highlights.
なるべく筆致を残す感じで塗れるように作った厚塗り向けのブラシセットです。
色々ありすぎるので気にいったものがあれば残して使ってください。
ブラシ名は自分にわかりやすいように適当につけています。
※ブラシ形状など一部すでに配布している素材と重複しています。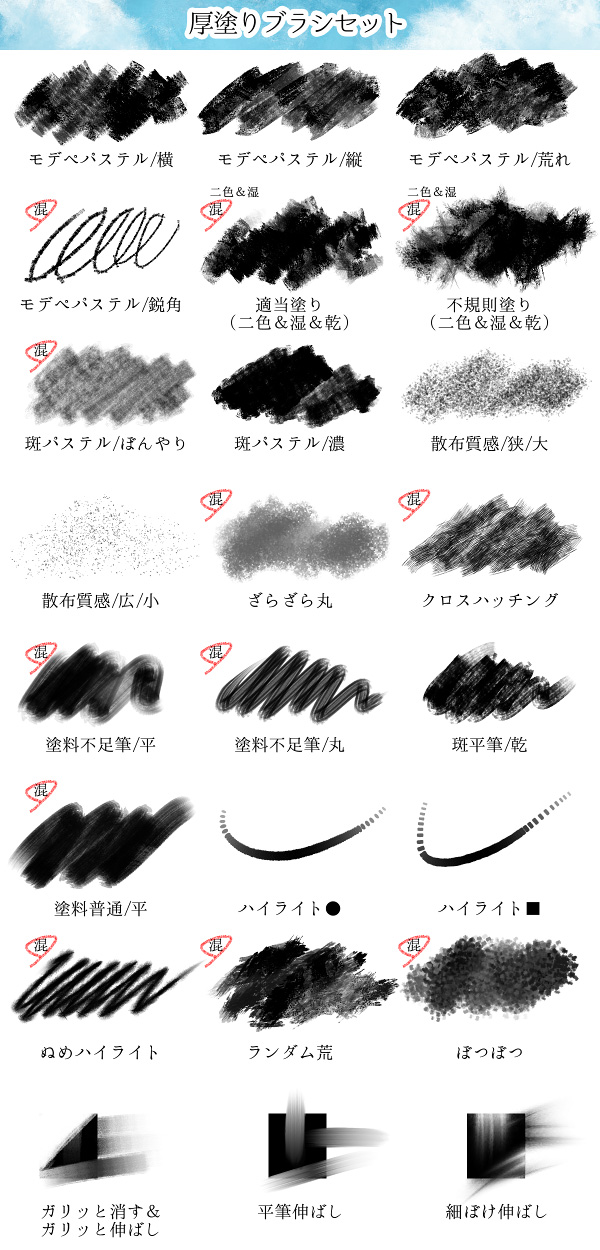 説明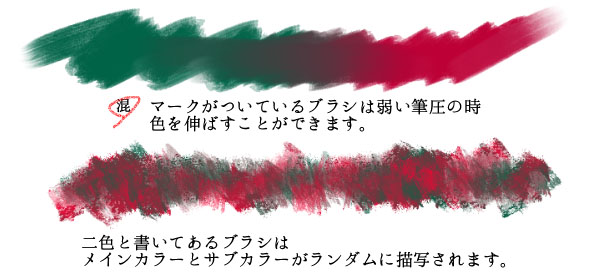 <モデペパステル/鋭角>は、ペンの傾きを検知するタブレットを使用している場合、ペンを立てると細く、寝かせると太目になると思います。
ハイライト■と●は特に厚塗り感はないですが入れました。ぐりぐり重ねると馴染むかも。

ブラシの調節

二色、混色を作ってるブラシ以外も塗りながらなるべくお手軽に調整できるようにしてみました。
ブラシ濃度、不透明度なども好みに合わせて調節すると良いかと思います。
テクスチャ
ブラシの質感に使ったテクスチャですが質感合成でもわりといい感じに使えると思います。下地作り向けです。
作例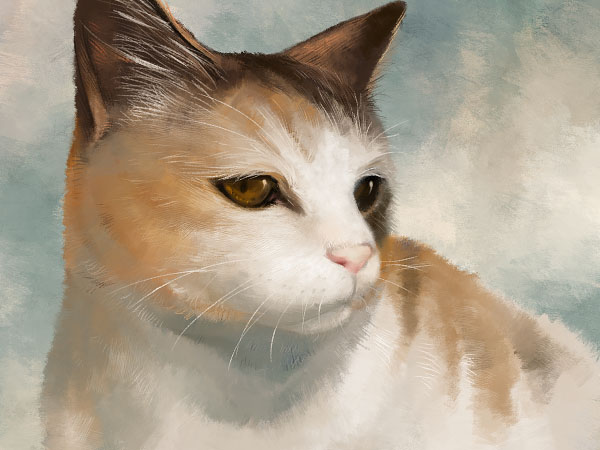 撮影した猫の模写。おおよそ↓こんな感じでブラシを使っています。仕上げサイズの二倍で描いています。仕上げ縮小前後にフィルター/シャープ/アンシャープマスクをきつめにかけました。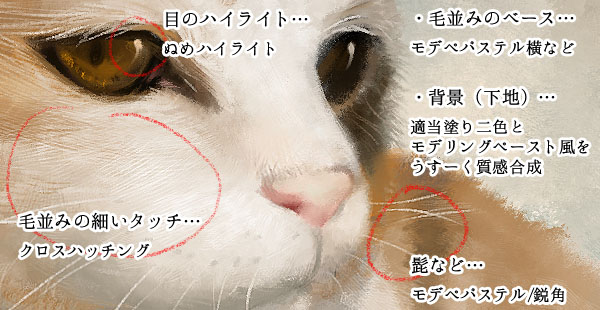 ぬめハイライトはぬめっとレザーのハイライト塗りたくて作ったのでそんな名前です。