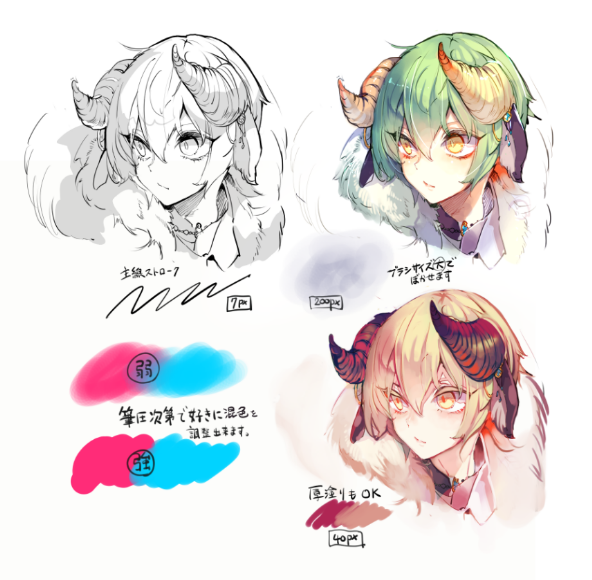 Against the canvas of 350dpi
5PX-7px (main line)
50px-100px (thick coating)
100px-300px (Blur)
I use it in a measure of the degree. Because it can regulate mixed colors depending on the pressure,
If it paints weakly, it becomes a thick paint wind if I paint it with watercolor style strongly.
(The pressure is set to a considerably stronger.) If you are weak in pressure, please do good luck)
If you want to blur, make the brush size bigger, and then try pounding it weaker.
The main line will be a bit rough touch. A little bigger if thought too rough
Try to make a reduction after drawing in the canvas size.
Please try to play around with various.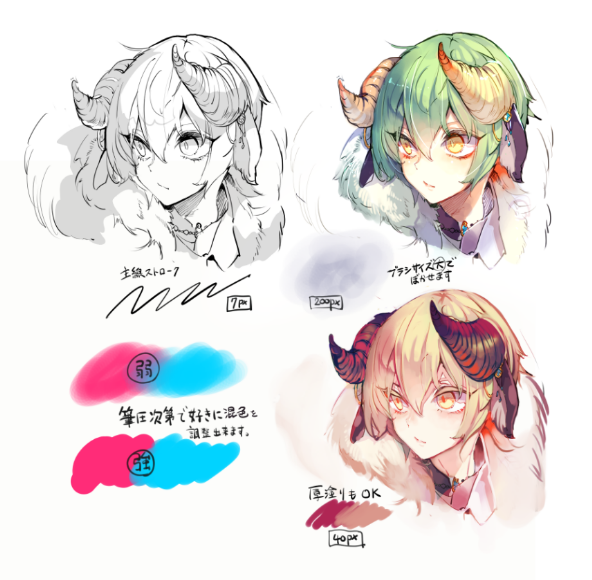 350dpiのキャンバスに対して
 ・5px~7px(主線)
 ・100px~300px(ぼかし)
程度の目安で使用しています。筆圧次第で混色を調節出来るので、
弱く塗れば水彩風に、強く塗れば厚塗り風になります。
(筆圧はかなり強めに設定してあります。筆圧の弱い方は頑張って下さい)
ぼかしたい場所はブラシサイズを大きくして、弱めに叩いてみて下さい。
主線は少しラフなタッチになります。ラフすぎると思った場合、少し大きな
キャンバスサイズで描いてから縮小をかけてみて下さい。
後は色々いじってみて下さい。